Audio Visual » Converters
$79.00
2+ $71.50
4+ $63.50
Price per each

In Stock
This compact converter extracts the audio from a HDMI signal and converts it to an optical digital output. The unit can also scale a 1080p signal to 4k/2k.

A3834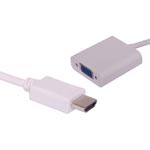 $39.95
4+ $35.95
10+ $31.95
Price per each

In Stock
This lead adaptor converts a HDMI signal to VGA and splits the audio signal to a 3.5mm stereo jack output. This allows high quality video signals to be transmitted over greater distances, plus integrate a HDMI audio source into a standard stereo amp

P7354A
$59.95
4+ $53.95
10+ $47.95
Price per each

In Stock
Converts VGA signal to HDMI. Ideal for connecting VGA equipment to modern HDMI monitors & televisions. Supports virtual 7.1ch audio over HDMI or 3.5mm stereo output.

P7357
All prices include GST.