Audio Visual » Mounting Brackets
WAS $99.00
$69.00
Price per each
SAVE
$30.00

In Stock
Base plate is adjustable from 165mm to 300mm, front to back. Suitable for speakers up to 10kg in weight. Can be angled 20 deg. vertically and 180 deg. Horizontally. Perfect for mounting bookshelf or surround sound speakers. Supplied in pairs.

WAS $49.95
$28.00
Price per each
SAVE
$21.95

In Stock
Designed for LCD screens utilising 200mm VESA mounting standard (MIS-E and MIS-F up to 200mm). This low profile bracket will suit screens up to 55" in size and 35kg weight. Lock & bar prevents theft or tampering.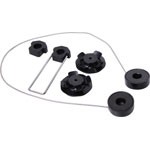 WAS $29.95
$12.00
Price per each
SAVE
$17.95

In Stock
This unique bracket design allows your television to be mounted almost flush with the wall - just like a framed picture would! The included wall plates are first mounted to the wall. The reinforced steel cable is then mounted to the television. Instal

All prices include GST.