HOW TO: Select the right power supply adapter for your appliance.
Whether you call them wall warts, plugpacks, power supplies, AC to DC adapters provide power to millions of different appliances and choosing a replacement one can be fraught with bad consequences! When choosing a replacement power adapter for any appliance, remember one thing...
VOLTAGE! VOLTAGE! VOLTAGE!
Always ensure the input voltage of your device matches the output voltage of the power adapter. If you've got an old box of plugpacks at home from old devices you will need to read the fine print on the label to find what DC voltage the supply outputs. Then look at any labelling you can find on the appliance to find "Input Voltage" listed. Often this is located near the DC input jack or on the serial nameplate.
Get this vital step wrong and you run the risk of damaging your appliance, especially if the voltage of the power adapter is HIGHER than the appliance input voltage.
Once you've matched your voltages. Next thing to think about is...
CURRENT.
Think of this as how much juice your appliance needs to run. Look for the power consumption of your appliance on the serial nameplate. It will be shown in Amps or "A". Now unlike voltage you don't need to exactly match the current consumption only that you use a replacement power adapter which has a higher rating. For example, a device that needs 0.5A will happily run on a 1, 2 or 3A output power adapter. It will simply draw down the required amount of current for it to operate.


The difference between 2.1mm and 2.5mm is only slight as shown by this image.
TIP
The connecting tip is often the most confusing part of choosing a suitable power supply. Tips come in many shapes and sizes. The most common types on appliances are 2.1mm and 2.5mm. Unfortunately these are very close in size and almost impossible to tell just by looking at it (see above). So you may have to test fit this in store to make sure you get the correct one. If in doubt, just ask our helpful staff.
POLARITY The tip of many power supply adapters can be changed, this allows the power adapter to suit a variety of appliances. This is useful, but also dangerous as it is vitally important to configure the tip to suit the appliance it is powering. Power supplies can be either tip positive or tip negative. And they are shown using the symbols below: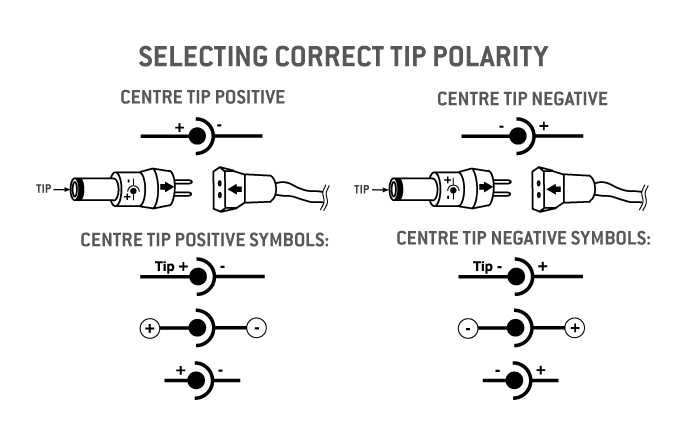 With that said, probably 99% of all DC powered products on the market today are TIP POSITIVE type. And this is reflected in the Altronics AC to DC power adapter range, which are predominantly fixed tip positive.
Lastly, but most important - source your power adapters carefully!
The Australian marketplace is flooded with cheap imported power supplies and mains appliance leads, often shipped within products, which do not meet the strict standards of the Australian approval authorities. Many lack the necessary insulation and safety circuitry to ensure safe operation and could represent a real danger to buyers!
Altronics spends considerable time and money maintaining our compliance for this range to ensure the safety of our customers. The Powertran range has been fully approved for use in Australia and have the SAA approvals required by law.
If you have any questions about choosing a replacement power adapter for your appliance, drop into one of our stores and we'll our best to help. Be sure to bring your appliance in with you or take a few photos of the input socket and nameplate. Whilst we don't stock every power adapter on the planet, we've got a huge selection of the most common types.
Find a power supply adapter by voltage by using the links below:
5 Volt
6 Volt
9 Volt
12 Volt
15 Volt
18 Volt
24 Volt