A1040 •

RL-IR305 IR Remote Extender System Junction Box
Resi-Linx RL-IR305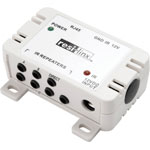 $125.00

per ea

Quantity
Price
ea

$125.00

4+

$120.00

per ea
Packaging
All prices shown are (inc. GST)
Overview
This suite of resi-linx® infra red (IR) products allows remote control of your AV equipment from anywhere in the house.
The system consists of two units, a distribution module (A 1040) which is located with the AV equipment, and a receiver module (A 1041) which is located in each room/zone. The two modules are connected with standard Cat 5e UTP cabling. The maximum distance between the units is 60m.
Each room can be connected in either a loop 'daisy-chain' style or centralised star wiring (with use of the A 1043).
The A 1040 distribution module has 7 IR outputs, each of which are connected to IR emitters. Four standard outputs, two discrete outputs (see below for more information about 'discrete IR') and one 'direct injection' output. This is an attenuated output for direct connection to equipment capable of direct injection ie: high end AV receivers. This eliminates IR errors.
The A 1041 junction box includes a 'flat screen friendly' IR target. Each junction box is configured with a DIP switch to use standard, discrete or direct injection outputs as desired. Junction boxes are powered from the A 1040 distribution module (over Cat 5e UTP cable).
For integration to RF modulator systems an A 1045 infra-red injector can be used to convert signals from an IR target to RF signal (via F connectors).
About discrete infra red
Discrete infra red is useful in particular situations where common equipment is installed in two locations. For instance, a Foxtel box located in the lounge, and one in the bedroom. Ordinarily an IR system would relay the IR signal from the bedroom to the lounge, changing the channel on both set top boxes! Discrete IR filters out the bedroom's IR signal ensuring only the local Foxtel box is affected, while still maintaining control of other equipment in the system. The A 1040 & A 1041 offers this discrete IR feature at a significantly lower cost than other systems on the market.
Included in box:
IR Junction Box
Direct IR lead for amplifiers
12V DC 500ma plugpack.
Note: All IR emitters are available to purchase separately. See 'Accessories' listed on this page.
Example System Diagram:
Information & Downloads
Altronics Code: A1040
Manufacturer's Code: RL-IR305
I/N: 8383
Barcode: 9321758132463
Shipping Weight: 0.21600Kg
Packaging Sizes
EACH: 1
CARTON: 56
Warranty & Returns
12 MONTHS
We offer 12 months warranty on this product from its date of purchase. This is available from Altronics stores, online purchases or Altronics resellers. In accordance with our full warranty terms we will repair, replace or refund if goods you have purchased from us are defective.
14 DAY MONEY BACK GUARANTEE
Not withstanding our warranty policy, if you are dissatisfied with our goods or service you may return the goods within 14 days of our despatch date. Simply contact us for a return authorisation number and we will refund your purchase in full, less transport costs on receipt of goods. All returned goods must be in as sold condition including all packaging, instructions, invoices etc.
Accessories (Sold Separately)