K8400 •

CoreI3 Desktop 3D Printer Kit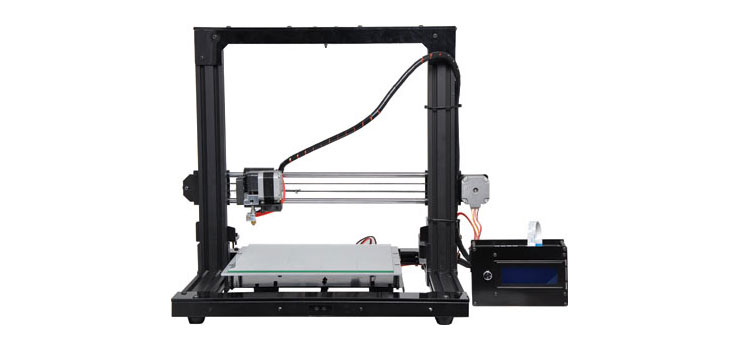 This item is no longer available to purchase.
Overview
With the K 8400 CoreI3 Desktop 3D Printer Kit you can add 3D printing to your workbench to produce working prototypes, 'one-offs' & finished designs downloadable from the internet. From printing your own gaming pieces to cosplay parts and fixes for broken parts, a 3D printer adds incredibly versatility to your workbench. The Core I3 is a compact desktop 3D printer with generous 220 x 220 x 220mm build area for printing with 3D printer PLA filament. The design is based on the Prusa I3 and offers fast accurate prints with a fully open source and customisable design. It can be assembled in just a few hours without specialised tools. Cable harnesses are pre-terminated to speed up the assembly process considerably. The Z axis is powered by a single motor on two screw guides, reducing sync issues that occur in dual motor designs. The heated print bed auto levels against the print head using a pressure sensor. The printer automatically detects when filament runs out, pausing your project until it is reloaded, allowing the printing of large complex objects. Size: 464 x 440 x 400mm.
Read the full construction review from DIYODE magazine!
Features
FDM 3D printing
220 x 220 x 220 build volume
RAMPS Plus2 mainboard
0.1mm accuracy
0.06-0.3mm layer thickness is recommended
1.75mm filament (PLA only)
0.4mm 0-250°C nozzle
Extruded aluminium & acrylic chassis
0-60°C heated print bed
XY pin & bush drive
Dual threaded Z axis
Compatible with Cura open source printing software
USB / SD card input
STL, OBJ, G-CODE file compatible
Includes power supply
Information & Downloads
Altronics Code: K8400
I/N: 15740
Barcode: 9321758225325
Shipping Weight: 8.00000Kg
Packaging Sizes
EACH: 1
IN.BOX: 1
Warranty & Returns
12 MONTHS
We offer 12 months warranty on this product from its date of purchase. This is available from Altronics stores, online purchases or Altronics resellers. In accordance with our full warranty terms we will repair, replace or refund if goods you have purchased from us are defective.
14 DAY MONEY BACK GUARANTEE
Not withstanding our warranty policy, if you are dissatisfied with our goods or service you may return the goods within 14 days of our despatch date. Simply contact us for a return authorisation number and we will refund your purchase in full, less transport costs on receipt of goods. All returned goods must be in as sold condition including all packaging, instructions, invoices etc.
Accessories (Sold Separately)