M8050 •

150W 12V DC To AC Modified Sine Wave Power Inverter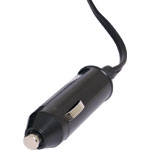 $54.95

per ea

Quantity
Price
ea

$54.95

2+

$49.45

4+

$43.95

per ea
Packaging
All prices shown are (inc. GST)
Overview
This compact 150W modified sine wave power inverter is ideal for providing AC power to appliances whilst away from mains power. They connect to your vehicle or auxiliary battery and provide AC power for appliances such as laptop chargers, stereos, phone chargers and other low wattage mains appliances. This range has been designed with operational safety in mind and is protected against over voltage, over load, over temperature, reverse polarity and short circuit conditions. A USB port is provided on the connection panel for convenient recharging of devices without the need to plug in your AC charger. Each model is housed in a robust aluminium extruded case.
Features
Isolated design for maximum electrical safety
Modified sine wave output
Certified to Australian Standard AS/NZS 4763.2011
DC/AC isolated design 
Safety authority tested for reliable & safe operation
Over temperature, over voltage, over load and short circuit protection
Low voltage cut off
Excellent voltage regulation 
Binding post connection to battery
Temperature controlled cooling fan
About Powerhouse Black Max Inverters
Housed in a rugged aluminium extrusion, this range of Powerhouse inverters was chosen over many others during testing for their robust reliability and unwavering performance - even under severe operating conditions. All others we tested failed our brutal testing regime. We understand that in the field, inverters will be subjected to all kinds of gross overloads and temperature variations and must survive. To be considered for inclusion to our range these inverters had to pass all of our tests. Further, as added peace of mind all models have been submitted and certified to Australian Standard AS/NZS 4763.2011. Many other inverters being sold in Australia are not certified and virtually all would not pass without major upgrades or modifications.
Information & Downloads
Altronics Code: M8050
I/N: 17310
Barcode: 9321758240274
Shipping Weight: 0.38400Kg
Packaging Sizes
EACH: 1
CARTON: 54
Specifications
Output power: 150W
Surge Power: 300W
DC Input Voltage: 12V DC
Output voltage: 230V AC
Output frequency: 50Hz
Output waveform: Modified sine wave 
Efficiency (typical): 88% 
No-load current: 0.25A
Low Battery Shutdown: 10V
High Battery Shutdown: 15.5V
Alarm & Thermal Shutdown: 75°C
Dimensions: 130 x 97 x 45 mm
Net Weight: 0.5kg

*Specifications are subject to change without notice.
Warranty & Returns
2 YEARS
We offer 2 years warranty on this product from its date of purchase. This is available from Altronics stores, online purchases or Altronics resellers. In accordance with our full warranty terms we will repair, replace or refund if goods you have purchased from us are defective.
14 DAY MONEY BACK GUARANTEE
Not withstanding our warranty policy, if you are dissatisfied with our goods or service you may return the goods within 14 days of our despatch date. Simply contact us for a return authorisation number and we will refund your purchase in full, less transport costs on receipt of goods. All returned goods must be in as sold condition including all packaging, instructions, invoices etc.