M8893 •

High Current Mains Dual USB Surge Adapter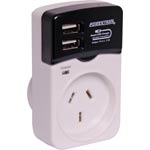 This item is no longer available to purchase.
Overview
A dual outlet USB adaptor with 240V GPO with high current output (3.5A) for faster charging than standard USB adaptors. Max 3.5A current shared between both USB outputs. Suitable for charging two smartphones or tablets at once. Mains outlet is surge protected and features over current and short circuit protection.

Case has been designed so that you don't lose sockets on your power board. The case narrows in profile toward the plug allowing for most power plugs and plugpacks on each side.



Information & Downloads
Altronics Code: M8893
Shipping Weight: 0.14000Kg
Specifications
USB Electrical Rating
Input voltage: 230-240V AC 50Hz
Output voltage: 5V DC
Output current: 3.5A
Output power: 17.5W
Electrical Rating
Max. voltage 230-240V AC 50-60Hz
Max. current: 10A
Max. power: 2400W
Frequency: 50Hz
Surge Rating
Max. energy dissipation: 525J (N-L-E 175J)
Max. spike current: 18000A
Clamping voltage: 710V
Response time: <1nS
EMI/RFI Noise filtration: 150kHz-100MHz

*Specifications are subject to change without notice.
Warranty & Returns
12 MONTHS
We offer 12 months warranty on this product from its date of purchase. This is available from Altronics stores, online purchases or Altronics resellers. In accordance with our full warranty terms we will repair, replace or refund if goods you have purchased from us are defective.
14 DAY MONEY BACK GUARANTEE
Not withstanding our warranty policy, if you are dissatisfied with our goods or service you may return the goods within 14 days of our despatch date. Simply contact us for a return authorisation number and we will refund your purchase in full, less transport costs on receipt of goods. All returned goods must be in as sold condition including all packaging, instructions, invoices etc.