Q1130B •

True RMS Autoranging DMM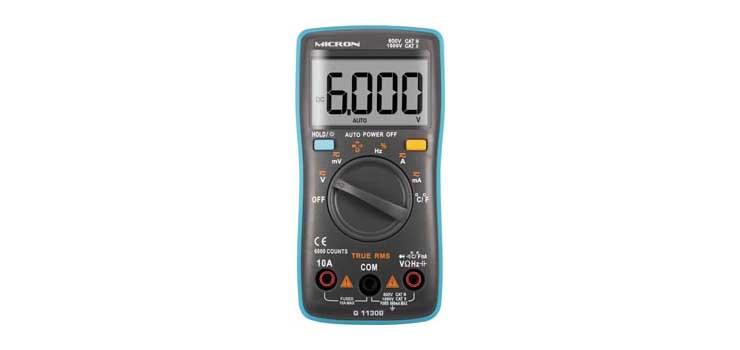 $44.95

$30.00

SAVE $14.95

Quantity
Price
ea

$44.95

$30.00

2+

$40.50

$30.00

5+

$35.95

$30.00

per ea
All prices shown are (inc. GST)
Overview
Autoranging multimeters are great if you don't have a free hand to change ranges on your DMM. Operates in autoranging or manual modes. Feature packed and economical, it represents fantastic value for money. Great for mobile technicians, installers or enthusiasts. Supplied with carry bag, test leads, rubber holster, temperature probe and built-in bench stand.
Features
Manual override
True RMS measurement
Data hold function
Backlit display
Auto power off
Low battery indicator
Capacitance
Temperature
Frequency & duty cycle
Continuity & diode tester
Rubber holster
Cat III 600V / Cat II1000V
Battery included
Information & Downloads
Altronics Code: Q1130B
Shipping Weight: 0.25550Kg
Specifications
Voltage DC: 600mV, 6V, 60V, 600V, 1000V (±0.5%+3d)
Voltage AC: 600mV, 6V, 60V, 600V, 700V (±1.0%+10d)
Current DC: 600μA, 6mA, 60mA, 600mA, 10A (±1.5%+3d)
Current AC: 600μA, 6mA, 60mA, 600mA, 10A (±1.5%+3d)
Capacitance: 10nF, 100nF, 1μF, 10μF, 100μF, 1000μF, 10000μF (±5%+5d)
Ohms: 600Ω, 6kΩ, 60kΩ, 600kΩ, 6MΩ, 60MΩ (±0.5%+2d)
Continuity: 40Ω threshold, audible tone
Diode test: Test current 5mA max
Duty cycle: 1-99% @ 250V RMS max (±0.8%+2d)
Frequency: 99Hz - 9.99MHz (±0.08%+2d)
Temperature: -20°C to 1000°C (±1%+3d)
Display: 3.75 digit, 6000 count, backlit
Protection: 200mA M205 fused on all inputs, except 10A range
Dimensions: ≈ 69W x 31D x 138H mm

*Specifications are subject to change without notice.
Warranty & Returns
2 YEARS
We offer 2 years warranty on this product from its date of purchase. This is available from Altronics stores, online purchases or Altronics resellers. In accordance with our full warranty terms we will repair, replace or refund if goods you have purchased from us are defective.
14 DAY MONEY BACK GUARANTEE
Not withstanding our warranty policy, if you are dissatisfied with our goods or service you may return the goods within 14 days of our despatch date. Simply contact us for a return authorisation number and we will refund your purchase in full, less transport costs on receipt of goods. All returned goods must be in as sold condition including all packaging, instructions, invoices etc.