Q1282A •

Pocket Infra-Red Non Contact Thermometer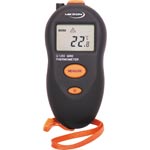 $39.95

per ea

Quantity
Price
ea

$39.95

2+

$36.25

4+

$32.25

per ea
Packaging
All prices shown are (inc. GST)
Overview
Compact hand held IR non contact thermometer, ideal for use in industry, laboratories & food safety. Excellent accuracy and wide measurement range of -50°C to 260°C. The typical measurement distance of this model is 20-130mm. Automatically retains last measurement when button is released. Fitted with wrist strap, easy to read backlit screen and small LED light. Includes 2 x AAA batteries.
Please Note: Our thermometer range are not considered medical grade devices. Accuracy ratings are shown in the specifications below.
Why Distance-To-Spot Ratio is an important factor when buying an IR thermometer.
The accuracy of any IR thermometer is determined by the distance-to-spot ratio. This ratio is the size of the object that you are measuring in comparison to the distance from where you are taking the measurement. In other words, the further you are away from the object the larger is the area being measured. If you are measuring a specific spot on a piece of equipment you may need to be quite close to achieve an accurate measurement, depending on the IR thermometer used.
An example of how to use spot ratio follows. If you are measuring a target area of approximately 125mm diameter wide (e.g imagine the area of a man's clenched fist), and your IR thermometer has a spot ratio of 8:1, then the maximum distance you can accurately measure temperature is maximum 1.0 metres (i.e.: 8 x 125mm = 1000mm - see illustration below). Beyond this distance the thermometer will also be measuring the temperature of the area outside the 125mm target diameter, which will obviously deliver a less accurate reading.
The biggest factor when shopping for an IR thermometer should be distance-to-spot ratio. In this case a higher ratio is better than a lower ratio as it will allow you to take accurate, targeted measurements from a greater distance.
Example distance-to-spot ratios:
Information & Downloads
Altronics Code: Q1282A
Barcode: 9321758195369
Shipping Weight: 0.08600Kg
Packaging Sizes
EACH: 1
IN.BOX: 20
CARTON: 100
Specifications
Measurement distance: 20 to 130mm.
IR temperature range: -50 to 260°C
IR resolution: 0.1 deg up to 260°C
Emissivity: 0.95 fixed
Basic accuracy: ±2% of reading
Distance-to-spot ratio (optical resolution): 2:1
Response: 800ms
Dimensions: 95H x 45W x 28Dmm

*Specifications are subject to change without notice.
Warranty & Returns
2 YEARS
We offer 2 years warranty on this product from its date of purchase. This is available from Altronics stores, online purchases or Altronics resellers. In accordance with our full warranty terms we will repair, replace or refund if goods you have purchased from us are defective.
14 DAY MONEY BACK GUARANTEE
Not withstanding our warranty policy, if you are dissatisfied with our goods or service you may return the goods within 14 days of our despatch date. Simply contact us for a return authorisation number and we will refund your purchase in full, less transport costs on receipt of goods. All returned goods must be in as sold condition including all packaging, instructions, invoices etc.
Accessories (Sold Separately)