Z6529 •

2.2" TFT Display Module For Arduino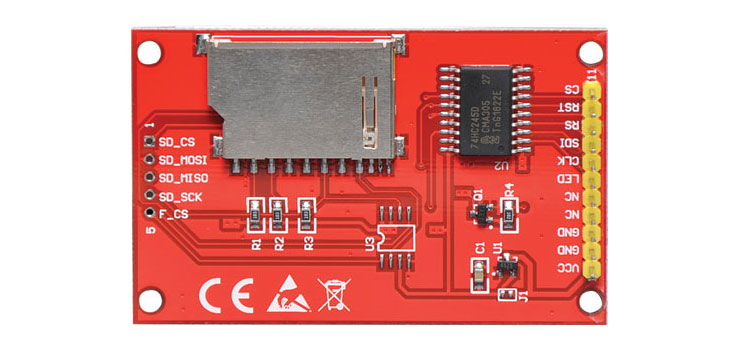 $28.75

per ea

Quantity
Price
ea

$28.75

2+

$25.95

4+

$22.95

per ea
Packaging
All prices shown are (inc. GST)
Overview
A compact 2.2 inch serial controlled TFT LCD screen for Arduino and related open source projects. Provides a crisp clear 176 x 220 resolution display with 262K colour depth. Great for electronic projects requiring a small, easy to read graphical display screen.
Display module information
This display module features a 262,144-color single-chip SOC driver for a-TFT liquid crystal display with resolution of 240x320 dots, comprising a 720-channel source driver, a 320-channel gate driver, 172,800 bytes GRAM for graphic display data of 240RGBx320 dots, and power supply circuit.
The display module supports parallel 8-/9-/16-/18-bit data bus MCU interface, 6-/16-/18-bit data bus RGB interface and 3-/4-line serial peripheral interface (SPI). The moving picture area can be specified in internal GRAM by window address function. The specified window area can be updated selectively, so that moving picture can be displayed simultaneously independent of still picture area.
The module can operate with 1.65V ~ 3.3V I/O interface voltage and an incorporated voltage follower circuit to generate voltage levels for driving an LCD. The display module supports full color, 8-color display mode and sleep mode for precise power control by software and these features make this display module an ideal LCD driver for medium or small size portable products such as digital cellular phones, smart phone, MP3 and PMP where long battery life is a major concern.
Features
Compatible with 3.3/5V operation voltage level
OnBoard level conversion chip for 5/3.3v MCU
With SD card socket
With Backlight control circuit
SPI serial bus only need 4 IO at least
Size: 2.2 inch
Control IC: ILI9225
Display resolution: 176*220
Information & Downloads
Altronics Code: Z6529
Barcode: 9321758223284
Shipping Weight: 0.02250Kg
Packaging Sizes
EACH: 1
Specifications
Display Spec
Size: 2.2 inch
Resolution: 240(RGB) x 320
Interface: 4-Wire SPI
Color Depth: 262K/65K
Technology Type: a-Si
Pixel Pitch (mm): 0.141X0.141
Pixel Configuration: R.G.B. Vertical Stripe
Display Mode: TM with Normally White
Surface Treatment(Up Polarizer): Clear Type(3H)
Viewing Direction: 6 o'clock
Gray Scale Inversion Direction: 12 o'clock
Mechanical Characteristics
LCM (W x H x D) (mm): 40.10x55.20x2.35
Active Area(mm): 33.84x45.12
With/Without TSP: Without TSP
LED Numbers: 4 LEDs
Electronic
Driver IC

*Specifications are subject to change without notice.
Warranty & Returns
12 MONTHS
We offer 12 months warranty on this product from its date of purchase. This is available from Altronics stores, online purchases or Altronics resellers. In accordance with our full warranty terms we will repair, replace or refund if goods you have purchased from us are defective.
14 DAY MONEY BACK GUARANTEE
Not withstanding our warranty policy, if you are dissatisfied with our goods or service you may return the goods within 14 days of our despatch date. Simply contact us for a return authorisation number and we will refund your purchase in full, less transport costs on receipt of goods. All returned goods must be in as sold condition including all packaging, instructions, invoices etc.
Accessories (Sold Separately)