Z6546 •

DFR0258 RS232 Shield for Arduino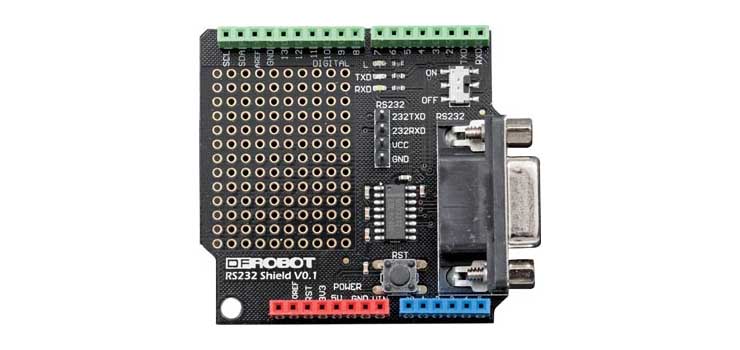 $23.75

per ea

Quantity
Price
ea

$23.75

per ea
All prices shown are (inc. GST)
Overview
This RS232 shield is designed for the Arduino controller,and it can easily convert UART to RS232 interface. The shield integrates DB9 connectors (female) that provide connection to various devices with RS232 interface. Also the RS232 headers will facilitate your connections and commissioning. It provides the welding areas to make full use of extra space on it, which is highly convenient for prototyping. It provides a run / program mode switch. When switched OFF, you'll be able to programme the Arduino controller; When switched ON, you can use the shield normally. Gold immersion PCB. Long pins on the back that are compatible with most Arduino controllers.
Compability
- Arduino UNO
- Arduino UNO R3
- Arduino Mega 1280/2560
RS232 Shield Wikidocs Page
Information & Downloads
Altronics Code: Z6546
Shipping Weight: 0.02900Kg
Specifications
Voltage: +5V
16 digital IO port (including a I2C interface)
6 analog IO port and power
Operation and programming mode switch
Transceiver indicating LED
DB9 connectors (female), RS232 pins
Weldable area
Reset switch
Module size: 55mmx53mm (2.16"x2.08")

*Specifications are subject to change without notice.
Warranty & Returns
12 MONTHS
We offer 12 months warranty on this product from its date of purchase. This is available from Altronics stores, online purchases or Altronics resellers. In accordance with our full warranty terms we will repair, replace or refund if goods you have purchased from us are defective.
14 DAY MONEY BACK GUARANTEE
Not withstanding our warranty policy, if you are dissatisfied with our goods or service you may return the goods within 14 days of our despatch date. Simply contact us for a return authorisation number and we will refund your purchase in full, less transport costs on receipt of goods. All returned goods must be in as sold condition including all packaging, instructions, invoices etc.