Professional Audio » Mixers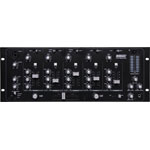 $299.00
2+ $279.00
Price per each

In Stock
Featuring 5 output channels and up to 11 input sources. Two channels accept both mic & line input, other channels are via stereo RCA. Two RCA inputs can be switched between phono and line level. Includes a three band graphic equaliser, individual fader vo

$42.50
2+ $38.50
4+ $34.00
Price per each

In Stock
This compact mono mixer allows 4 channels of audio to be mixed via 6.35mm unbalanced connections. It features 4 x 6.35mm unbalanced inputs, 1 x 6.35mm balanced master output, master volume control. Can be operated by 9V battery or 12V plugpack. Sold se

WAS $950.00
$399.00
Price per each
SAVE
$551.00

Low Stock - Call to Confirm
A professional mixer engineered for studio or live performance. It is compact, stylish and designed for ease of use. The uncluttered control layout enables hassle free adjustment in live or studio mixing environments. Utilising the latest in surface moun

Manufacturer's P/No:MX1200/L4
$495.00
2+ $440.00
Price per each

In Stock
Developed after extensive consultation with Australian pro sound contractors, this 8 channel mixer incorporates a variety of practical features ensuring suitability for a wide scope of PA and sound reinforcement applications. Features include: selectable

$395.00
2+ $345.00
Price per each

In Stock
The Redback® A 4422 4 channel mixer has been designed to meet the requirements of professional public address installations. It is ideally suited for use in shopping centres, gymnasiums, places of worship, court rooms etc.

WAS $349.00
$265.00
Price per each
SAVE
$84.00

Low Stock - Call to Confirm
Featuring 3 microphone inputs with parametric equaliser, digital echo and repeat controls, this compact mixer is perfect for home & commercial karaoke systems. The parametric equaliser enables the microphone input to be tailored for the singer. The mixer

$180.00
2+ $165.00
4+ $155.00
Price per each

In Stock
This compact 2 input mixer which accepts either a line level signal or balanced microphone signal for each input. The output signal is suitable for feeding an amplifier with either a line level input or balanced microphone input. Input one will vox mute i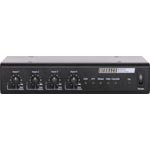 $349.00
2+ $329.00
Price per each

In Stock
This four channel mixer features 4 balanced mic inputs and 3 line inputs. Input 1 is a dedicated balanced mic input whilst inputs 2 - 4 can accept either balanced mic or line level.

All prices include GST.