Professional Audio » Signal Processors
$89.95
2+ $85.00
5+ $75.00
Price per each

In Stock
Features two line inputs and one mic input, each with its own level control. The mic input can be configured for either balanced or unbalanced operation. All inputs are mixed to a single line level output. It can be powered from either a single rail po

$279.00
2+ $250.00
Price per each

In Stock
Enables the control of paging and background music over 10 speaker zones. An incoming signal is thus selectable to the zones required. An "all call" button is provided. The design allows multiple units to be connected together to create an infinite number of zones.

$85.00
2+ $78.00
Price per each

In Stock
This optional compressor/compander module can be fitted internally to inputs 7 and 8 of the A4425. It maintains a consistent output level during CD/DVD playback to eliminate constant adjustment of volume levels.

$95.00
2+ $85.00
4+ $80.00
Price per each

In Stock
This small adaptor receives a 100V signal from one amplifier and reduces the level down to either balanced mic level or auxiliary level to feed into the input of a second amplifier.

$135.00
2+ $125.00
4+ $115.00
Price per each

In Stock
This compact signal splitter is provided with two input sockets. The 3 pin XLR can be configured for either 3mV or 1V sensitivity, whilst the RCA auxiliary input can be set for either 100mV or 1V sensitivity.

$165.00
2+ $150.00
4+ $135.00
Price per each

In Stock
This line pre-amp will accept either a microphone or auxiliary input and convert it to a balanced high level signal suitable for distribution up to 500M without interference with up to 3V of output level available. Volume controls are provided for both inputs plus a master volume control. The microphone is a balanced XLR input whilst the auxiliary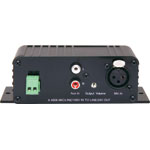 $165.00
2+ $155.00
4+ $145.00
Price per each

In Stock
The A 4906 is a versatile unit which accepts either a line level signal, balanced microphone signal or 100V input signal. The output signal is a line level signal suitable for feeding into an amplifier.

$189.00
2+ $170.00
Price per each

In Stock
This remote mic/line pre-amp wallplate accepts either a microphone or line input for conversion to a balanced high level signal. The 3V output signal is carried via Cat5e cable, suitable for distribution up to 500m without interference. Mic input is via a

WAS $149.00
$89.00
Price per each
SAVE
$60.00

Low Stock - Call to Confirm
This direct injection (DI) box is used to convert high impedance unbalanced devices like guitar pick ups to a low level balanced output. Allows signals to be fed over long distances without hum and noise. Powered from either an external 12V DC source, a 9

$229.00
2+ $209.00
4+ $195.00
Price per each

In Stock
A rack mount active crossover may be configured in either stereo 2- way or mono 3-way mode. Designed to be used in a multi-amplifier, multi-speaker PA or front of house system, it accepts a balanced line input via XLR connectors on the rear panel. Output

All prices include GST.