Projects » Specialist Kits
$39.95
4+ $37.95
Price per each

In Stock
$39.95
5+ $36.95
Price per each

In Stock
This compact alarm can be used to monitor the operating temperature of a whole range of devices. You could use it to monitor your tropical fish tank, your home brew, freezer, fridge, your hot water system or where temperature monitoring is useful.

WAS $29.95
$14.00
Price per each
SAVE
$15.95

In Stock
(SC Aug '03) Simply connects to your serial port and provides remote control of Winamp and WinDVD software packages. In addition to this it can also provide a host of other PC automation abilities. Great for watchin

WAS $68.50
$55.00
Price per each
SAVE
$13.50

In Stock
(SC January '09) Want to try your hand at 'stop motion' photography? This camera shutter/flash controller allows you to take a picture at a precise moment between 1ms and 9.99s after a trigger. Triggering can be from the included electret mic

$129.00
4+ $115.95
Price per each

In Stock
(SC August '10) Build this large, heavy duty ultrasonic cleaner and blast away grime from virtually anything, using just water and a little household detergent. Sensor can be dunked into a bucket of water for cleaning large objects. Great for c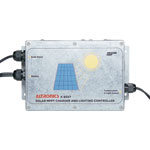 $99.95
5+ $84.95
Price per each

In Stock
This MPPT charge/Light controller will work with 12V or 24V solar panels to charge a 12V or 24V lead-acid or lithium iron phosphate battery. you can then use the battery to run 12V dc lighting.

$79.95
4+ $74.50
Price per each

In Stock
(Designed by Altronics) Incorporating the new super accurate DS18B20 digital temperature sensor, this thermometer/thermostat kit provides an accurate reading to 1 decimal point. The LCD shows current, min and max temperatures. An internal buzzer sounds whenever over temperature or under temperature limits are exceeded. Ideally suited for m

WAS $30.00
$16.00
Price per each
SAVE
$14.00

In Stock
Designed by Altronics Need to design around 28 or 40 pin PIC? Can't find a reasonably priced programming kit? We've managed to solve BOTH problems with these great add ons for the K 9505. They allow you to easily program 28 & 40 pin PICís which are very

$49.95
5+ $44.95
Price per each

In Stock
(SC November 2011) The idea behind the miniMaximite is simple: to shrink the Maximite down to the size of a large postage stamp while keeping it 100% compatible with the larger version in its external I/O capabilities and programming language.

$94.95
4+ $85.45
Price per each

In Stock
(SC September 2012) Fully upgraded Maximite design, see below for list of upgrades. Ideal for datalogging, monitoring & switching relays. Utilising the new Microchip PIC32 processor, this powerful embedded computer can read/save programs on an SD c

All prices include GST.