Audio Visual » Converters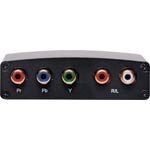 WAS $139.00
$109.00
Price per each
SAVE
$30.00

In Stock
A compact module which converts HDMI signal to component video (YPbPr). As HDMI is limited to 15m converting to an analog component signal enables the signal to be transmitted over greater distances. Audio signal is split into a stereo signal with R

$49.50
2+ $46.95
4+ $45.00
Price per each

Low Stock - Call to Confirm
Converts an analog audio output (from any standard line level source) into a digital audio signal for connection to a commercial amplifier or distribution system. Both coaxial and optical (Toslink) input connections are provided. The internal low noise a

$127.00
2+ $121.00
4+ $115.00
Price per each

Low Stock - Call to Confirm
An upscaler box for integrating stereo composite signals from devices such as CCTV cameras, older camcorders and AV equipment. Converts a standard stereo composite/S-Video signal into an integrated HDMI 720p video and digital audio signal. Include

$99.95
2+ $95.00
4+ $90.00
Price per each

In Stock
Allows you to split the audio stream from a HDMI signal into either S/PDIF optical or four analog stereo 3.5mm jack outputs - ideal for 7.1 multi-channel systems.

$99.95
2+ $89.95
4+ $79.95
Price per each

In Stock
With the help of this audio extractor you can extract audio signals from any HMDI compliant source to digital optical or analog stereo audio outputs.

All prices include GST.