For over 20 years, Proskit Industries has been a leading brand and manufacturer based in Taiwan. Supplying electronic, computer, networking & telecom industries and education fields with over 4,000 products in 20 categories of hand tools, power tools, test instruments and more.
New Products
$22.95
3+ $20.95
6+ $18.95
Price per each

In Stock
150mm heavy duty side cutters. Made from drop forged steel , with rubber insulated grips.

$39.95
2+ $35.95
4+ $31.95
Price per each

In Stock
Heavy duty, all metal ratchet crimp tool designed specifically for terminating industry standard MC-4 solar connectors.

Special Offers
WAS $27.95
$24.95
Price per each
SAVE
11%

Low Stock - Call to Confirm
#0, #1, #2 philips. 3.0, 5.0, 6.0 flat blade. High grade screwdrivers with comfortable hand grips.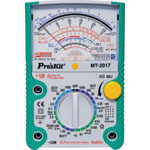 WAS $59.95
$44.00
Price per each
SAVE
$15.95

In Stock
Ideal for observing constantly varying quantities such as cycling voltages or speaker resonance testing. Analogue meters are ideal for observingconstantly varying quantities such as cyclic voltages or for speaker resonance testing. This meter ha

Top 5 Products
T2173 In Stock

Q1340 In Stock

Q1026A In Stock

WAS $59.95
$44.00
Price per each

T2749 In Stock

T1246 In Stock