A3149 •

HDMI Over IP UTP Balun Receiver With POE IR And RS232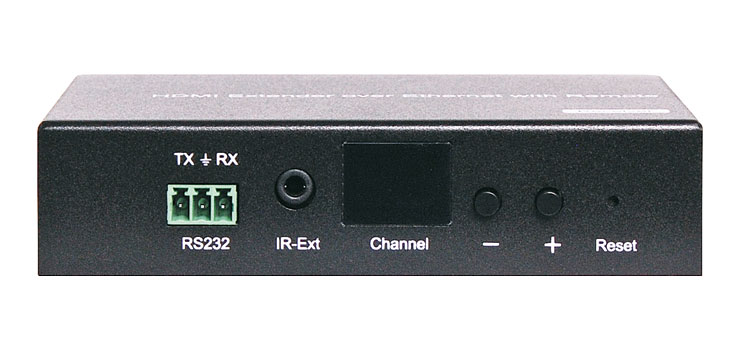 $255.00

per ea

Quantity
Price
ea

$255.00

2+

$235.00

4+

$215.00

per ea
Packaging
All prices shown are (inc. GST)
Overview
Converts a HDMI signal into a H.264 encoded stream (maximum 1080p @ 60Hz) and sends it over Cat5e/6 cable using internet protocol (IP) over a distance of 120 metres. The advantage of this method is a reduced network load without sacrificing signal quality. It also allows for data to be streamed over Wi-Fi.
These transmitters and receivers are very flexible, allowing for various system configurations including one to one, one to many, many to one and many to many modes. Up to 64 transmitters may be used and a total maximum of 256 transmitters & receivers per system. Each device in the system can be individually addressed with support for IGMP and DHCP automatic addressing.
Importantly, PoE (802.3af) has also been included, allowing for the transmitter and receiver to be powered directly from a PoE equipped switch, eliminating the need for individual plugpacks. It also allows an infra-red signal path back to the source equipment for remote control at the receiver location.
These units are ideally suited for multi source, multi screen environments such as clubs, pubs, convention centres, venues etc.
HDCP compliant.
Dimensions: 119 x 79.5 x 28mm
Transmitters sold separately
Features
1080p @ 60Hz over 120m Cat5e/6
H.264 compression for reduced network load
Wi-Fi streaming compatible
Individually addressable RX & TX
Powered by PoE 802.3af
Wide-band IR pass 38KHz - 56KHz
RS-232 pass through
HDMI loop output
LPCM audio support
Up to 256 RX/TX units per system
Addressable groups (up to 64)
Supports DHCP
Works with standard ethernet an PoE switches
Access network streams via VLC on PC/tablet etc.
Includes power supply
15Mbps streaming
Applications
Information & Downloads
Altronics Code: A3149
I/N: 14299
Barcode: 9321758186220
Shipping Weight: 0.70000Kg
Packaging Sizes
EACH: 1
CARTON: 20
Specifications
Performance
Protocol: H.264 encoder over TCP/IP
Video Format: 480i/480p/576i/576p/720o/1080p@60Hz
Audio Format: LPCM, Audio sampling rate 48kHz
Bit Rate: 15Mbps
HDCP: Yes
IR Frequency: 38-56 kHz
RS232 Baud Rate: Default 2400bps-8 options
IR: supports 38kHz
IP Setting& Group ID Setting
Default IP: TX: 192.168.1.11; RX: 192.168.1.12
Group ID: Group 00-Group 63
Receiver Connections
Input: 1x RJ45 input
Output: 1x HDMI socket
RS232: Phoenix RS232 port
General
Power Supply: DC 5V 1A
Power Consumption: Max 3 watt
Dimensions: 119 x 79.5 x 28mm

*Specifications are subject to change without notice.
Warranty & Returns
12 MONTHS
We offer 12 months warranty on this product from its date of purchase. This is available from Altronics stores, online purchases or Altronics resellers. In accordance with our full warranty terms we will repair, replace or refund if goods you have purchased from us are defective.
14 DAY MONEY BACK GUARANTEE
Not withstanding our warranty policy, if you are dissatisfied with our goods or service you may return the goods within 14 days of our despatch date. Simply contact us for a return authorisation number and we will refund your purchase in full, less transport costs on receipt of goods. All returned goods must be in as sold condition including all packaging, instructions, invoices etc.