A3250 •

HDMI Bi-directional IR To Cat5e/6 Wallplate Balun With POE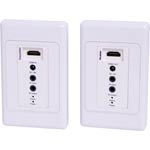 This item is no longer available to purchase.
Overview
A point to point HDMI over UTP balun pair mounted into a wallplate for transmission or 1080p HD signals between rooms. Installation is made easier via Power over UTP, which only requires a single power source at either the receiver or transmitter end (power can also be connected at rear of wallplate). Bi-directional IR control allows control of both AV source equipment & television from either room. Maximum 1080p transmission distance 50m (up to 80m for 720p) when using a standard Cat5e UTP cable type. Supports 3D, EDID callback and common surround sound audio formats. Fits standard electrical wallbox. Includes power supply, two IR targets & two IR emitters.
Features
50m at resolutions 1080P 3D or 1920x1200 60fs
80m at 1080i/720P through single CAT5e cable.
Support audio formats, Dolby True HD, DTS-master, etc.
Support 3D signals (all 7 formats), such as Frame Packing, Side-by-Side,Top-to Bottom, etc.
Supports EDID call back.
Supports CEC pass through.
VESA DDC and hot swap technology (HPD).
Supports power over UTP cable, single 12V DC power supply from any side of TX or RX.
38KHz bi-direction remote IR (RX->TX and TX->RX).
Both HDMI input and output are compatible with HDCP 1.2.
Compatible with DVI 1.0.
Supports cascading to enhance extending distance.
Information & Downloads
Altronics Code: A3250
Shipping Weight: 0.60000Kg
Specifications
Interface:
Transmitter: HDMI input, IR output (3.5mm), IR input (3.5mm), RJ45 ethernet interface, 12V DC input.
Receiver: HDMI output, IR output (3.5mm), IR input (3.5mm), RJ45 ethernet interface, 12V DC input.
Power:
<3.5W Tx or <2.5W Rx
Dimensions:
108L x 46W x 35D mm
Net Weight:
0.1kg per unit
Video Bandwidth:
Maximum TMDS clock frequency 165MHz, 4.95Gbps
Resolution and Range:
1080P-50m Cat5e, 80m Cat6
720P/1080i-80m Cat5e, 100m Cat6
Audio Formats:
8-Channel support Dolby True HD, DTS Master
TMDS Input Signal:
1.2V (point to point)
DDC Input Signal:
5V (point to point)
Indicators:
Power green LED, Video link yellow LED
HDMI Interface Standard:
HDMI 1.3, HDMI 1.4 3D, HDCP 1.2 support CEC, EDID
Remote IR:
38kHz
ESD Level:
HBM

*Specifications are subject to change without notice.
Warranty & Returns
12 MONTHS
We offer 12 months warranty on this product from its date of purchase. This is available from Altronics stores, online purchases or Altronics resellers. In accordance with our full warranty terms we will repair, replace or refund if goods you have purchased from us are defective.
14 DAY MONEY BACK GUARANTEE
Not withstanding our warranty policy, if you are dissatisfied with our goods or service you may return the goods within 14 days of our despatch date. Simply contact us for a return authorisation number and we will refund your purchase in full, less transport costs on receipt of goods. All returned goods must be in as sold condition including all packaging, instructions, invoices etc.
Accessories (Sold Separately)