A3830B •

HDMI Audio Extractor 2CH/7.1CH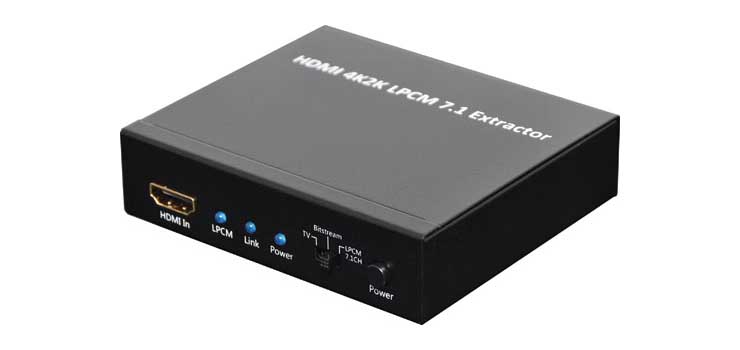 $125.00

per ea

Quantity
Price
ea

$125.00

2+

$115.00

4+

$105.00

per ea
All prices shown are (inc. GST)
Overview
When connecting to TV or display you don't always get the best audio however with this extractor you can extract audio signals from your HDMI source. By taking the original HDMI audio signal and converting it to either digital optical or analog multichannel audio. Because of this you can then output your audio signal to external speakers and extend the audio signal pathway. When you connect to 4K2K display a true video will be performed without sacrificing the quality of resolution.
Includes 5V 2A power supply
Features
Compliant with HDMI, HDCP 1.2 and DVI 1.0
Supports HDMI audio sampling rate up to 192 kHz
Supports Optical S/PDIF audio sampling rate up to 192 kHz
HDMI supports high-bit-rate (HBR) audio
No HDMI output connection is required to receive audio at the analog and optical outputs
Supports 4 x 3.5mm phone jack for analog multi-channel audio outputs
Maximum input and output HDMI cable length can run up to 15 meters at 1080p 8-bit resolution or 10 meters at 1080p 12-bit resolution
Supports built-in audio EDID switching among LPCM 7.1CH, TV (external) EDID, and Bitstream audio
Supports CEC bypass
Supports 4Kx2K resolution and 3D signal
Information & Downloads
Altronics Code: A3830B
Shipping Weight: 0.43500Kg
Specifications
Video bandwidth: 300Mbps / 10.2Gbps
Input Ports: 1 x HDMI
Output Ports: 1 x HDMI, 1 x Optical, 4 x 3.5mm Phone Jack
HDMI Audio Sampling Rate: Up to 192 kHz
Optical S/PDIF Audio Sampling Rate: Up to 192 kHz
HDMI Audio Format:
- LPCM 2/5.1/7.1CH, Dolby Digital 2~5.1CH, DTS 2~5.1CH, Dolby Digital Plus Dolby TrueHD, and DTS-HD Master Audio
Optical Audio Format: LPCM 2CH, Dolby Digital 2~5.1CH, and DTS 2~5.1CH
L/R Audio Format : 4 x Phone Jacks Output Format , 7.1 CH Analog Audio

*Specifications are subject to change without notice.
Warranty & Returns
12 MONTHS
We offer 12 months warranty on this product from its date of purchase. This is available from Altronics stores, online purchases or Altronics resellers. In accordance with our full warranty terms we will repair, replace or refund if goods you have purchased from us are defective.
14 DAY MONEY BACK GUARANTEE
Not withstanding our warranty policy, if you are dissatisfied with our goods or service you may return the goods within 14 days of our despatch date. Simply contact us for a return authorisation number and we will refund your purchase in full, less transport costs on receipt of goods. All returned goods must be in as sold condition including all packaging, instructions, invoices etc.
Accessories (Sold Separately)