M8139 •

Inverter UPS Pure Sinewave 1.2KVA 12V Input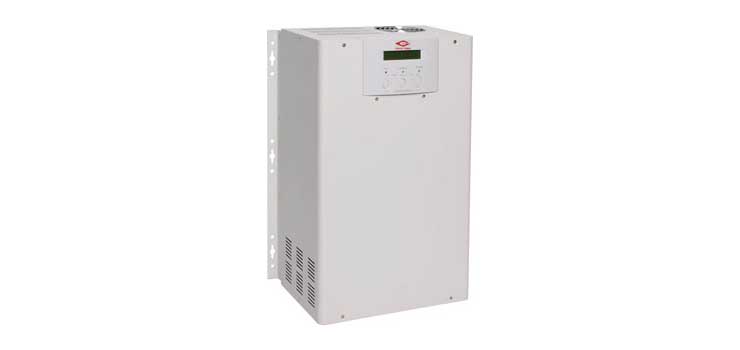 $1,299.00

$825.00

SAVE $474.00

Quantity
Price
ea

$1,299.00

$825.00

2+

$1,199.00

$825.00

4+

$1,099.00

$825.00

per ea
Packaging
All prices shown are (inc. GST)
Overview
These state of the art pure sine wave UPS/inverters utilise sophisticated circuitry that includes a battery charger, inverter, solar regulator and an automatic bypass switch which allows them to be utilised in a wide variety of power backup installations.
They are designed to be permanently connected to 240V mains grid power, a solar array and suitably sized battery bank. Under normal mains conditions the load is direct fed, under mains failure the inverter, powered from the battery bank, takes over and supplies the load. Switch over from mains to inverter is via the automatic bypass switch which switches within 8ms ensuring a seamless changeover.
The control panel with LCD provides adjustments for mains output voltage, output frequency. Essential battery parameters can be monitored including capacity remaining, current and voltage. The control panel may be removed and located remotely via Cat5 UTP cable up to 50m from the main unit.
Inverter:
Produces a clean and smooth sine wave AC output with very low distortion (<3%) and precise frequency control. The soft-start circuitry and large surge capacity enable the units to power heavy inductive loads. The overload and short circuit protection system ensures safe and reliable operation. An internal bypass switch enables the unit to operate as an automatic backup power supply whilst connected to the mains grid. When connected to mains power the unit functions as a battery charger, keeping the backup cells topped up. If mains power fails, the unit automatically switches to inverter mode and continues to power the connected devices. No user intervention is required and the bypass switch will activate within 8ms, ensuring minimal power disruption.
Battery Charger:
Charges and maintains either gel cells or lead-acid battery banks up to 500Ah. The microprocessor circuitry ensures batteries are charged to their optimum capacity using a 3 step process. This maximises battery capacity and life. Charging parameters are user-configurable depending on battery size. This allows the charger to be matched precisely to the kinds of batteries being employed.
Solar Regulator:
The internal solar regulator allows direct connection of solar panels, integrating them into a remote power system. The connected batteries are charged and maintained automatically from the solar panels. If the unit is connected to mains power or a generator, battery charge is automatically balanced between mains and solar panels.
Features
Pure sine wave output with low distortion
Auto-switching between 240V mains and inverter output when mains fails
Suitable for fixed installations eg: backup power systems
Suitable for use in generator systems
Internal solar regulator
Built-in 5 stage battery charger
User programmable charge parameters for optimum battery charging
Gel cell or lead-acid battery compatible
Front panel can be remote mounted
Information & Downloads
Altronics Code: M8139
I/N: 10194
Barcode: 9321758146477
Shipping Weight: 16.68000Kg
Packaging Sizes
EACH: 1
CARTON: 1
Specifications
Capacity 1.2KVA
Continuous rating 800W
Output wave form Pure sine wave
Battery input voltage 12V DC
Efficiency at full load 75%
Max charging current >40A
Minimum start load (inverter mode) 0%
Output voltage 220-240V AC @ 50Hz
Max output voltage 275V AC @ 50Hz
Power factor 0.8
Frequency regulation ±0.1Hz
Voltage regulation <3% RMS
Low battery alarm Yes
Low battery shutdown Yes
Alarm & thermal shutdown Yes
Short circuit protection Yes
Operation temperature 0-40°C
Weight 14kg
Dimensions (mm) ≈298 x 400 x 150
Solar charging board
Battery voltage: 12V
Charging voltage: 13.8V
Solar maximum peak voltage: 22V
Solar charging working voltage: 11.7V +/-0.5V
Maximum charging current: 50A
Surge rating: 1360W / 100mS
Polarity protection: Yes
Backflow protection: Yes
Dimensions: 112W x 80D x 50H mm

*Specifications are subject to change without notice.
Warranty & Returns
12 MONTHS
We offer 12 months warranty on this product from its date of purchase. This is available from Altronics stores, online purchases or Altronics resellers. In accordance with our full warranty terms we will repair, replace or refund if goods you have purchased from us are defective.
14 DAY MONEY BACK GUARANTEE
Not withstanding our warranty policy, if you are dissatisfied with our goods or service you may return the goods within 14 days of our despatch date. Simply contact us for a return authorisation number and we will refund your purchase in full, less transport costs on receipt of goods. All returned goods must be in as sold condition including all packaging, instructions, invoices etc.