M8199 •

100W Portable Solar Power Generator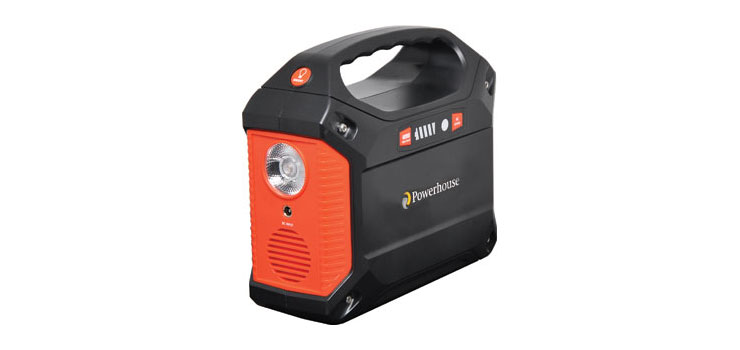 $249.00

$199.00

SAVE $50.00

Quantity
Price
ea

$249.00

$199.00

2+

$219.00

$199.00

4+

$199.00

per ea
Packaging
All prices shown are (inc. GST)
Overview
This multi-function portable solar generator & battery bank is ideal for camping and other outdoor activities. Provides 240V AC mains output from an inbuilt inverter, whilst also allowing DC devices to be powered and charged with 2.1mm DC and USB outputs. Thanks to it's in-built MPPT solar charger it can be directly connected to solar panels via the included adaptor to provide totally indepedent camp site power solution. It even has a built in torch lamp!
Allows for using AC inverter output and DC charging/power outputs simultaneously.
Package Includes:
1 x Portable Solar Generator
1 x Power Adaptor
1 x Car Charger
1 x Cigarette Lighter Adaptor
1 x MC4 Solar Panel Adaptor Cable
1 x User Manual
Note: solar panel is sold separately.
Features
100W 240V Inverter (modified sine wave)
42,000mAh battery bank
Simultaneous AC and DC output
MPPT solar charging input for maximum solar panel efficiency
Suits 40W solar panel - max 2.1A MPPT input (sold separately)
Three 12V DC 2.1mm DC jack outputs.
MC-4 solar panel adaptor lead included.
3 x USB charging ports (Up to 6A shared)
Bright LED camping light built in
Portable and light weight
Connection Diagram
Information & Downloads
Altronics Code: M8199
Shipping Weight: 2.37500Kg
Packaging Sizes
EACH: 1
CARTON: 4
LAYER: 32
PALLET: 128
Specifications
Capacity: 14Ah, 3.7V /155Wh
Dimensions: 195x90x171mm
Weight: about 1.58Kg
Built-in Battery: Lithium ion
Input Recharging: Adaptor: DC15V/2A
Solar Panel Charging: MPPT 13V~22V, up to 2.1A input
Charging Time: DC 15V/2A:7~8 hours
Output: 3 x USB 5V-2.1A(Max), DC 9-12.6V/10A(15A Max)
DC Wattage (Max): 9~12.6V/10A(15A, 180W Max)
AC Output: 230V/50Hz
Modified Sinewave
Rated Power: 100W
Bulb Type: Ultra bright LED Flashlight
Power Indicator: LED Indicators
Operation Temperature Range: 10°C to 40°C

*Specifications are subject to change without notice.
Warranty & Returns
12 MONTHS
We offer 12 months warranty on this product from its date of purchase. This is available from Altronics stores, online purchases or Altronics resellers. In accordance with our full warranty terms we will repair, replace or refund if goods you have purchased from us are defective.
14 DAY MONEY BACK GUARANTEE
Not withstanding our warranty policy, if you are dissatisfied with our goods or service you may return the goods within 14 days of our despatch date. Simply contact us for a return authorisation number and we will refund your purchase in full, less transport costs on receipt of goods. All returned goods must be in as sold condition including all packaging, instructions, invoices etc.
Accessories (Sold Separately)