M8736 •

72W 12VDC Switchmode Power Supply
Mean Well RS-75-12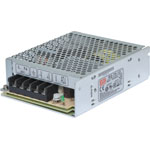 $53.95

per ea

Quantity
Price
ea

$53.95

2+

$50.75

4+

$46.75

per ea
Packaging
All prices shown are (inc. GST)
Overview
Switchmode power supplies offer several significant advantages over traditional linear transformer power supplies.They are far more efficient than their linear counterparts. As they do not use power or mains transformers the equivalent power supply weighs considerably less than traditional types. Physical size is also reduced. Though the power supplies are supplied in a vented steel cabinet they must be installed within a secondary earthed cabinet as the 240V input terminals are exposed.
Features
Universal AC input / Full range
Protections: Short circuit / Overload / Over voltage
Cooling by free air convection
LED indicator for power on
100% full load burn-in test
All using 105ºC long life electrolytic capacitors
Withstand 300VAC surge input for 5 second
High operating temperature up to 70ºC
Withstand 5G vibration test
High efficiency, long life and high reliability
Information & Downloads
Altronics Code: M8736
Manufacturer's Code: RS-75-12
Barcode: 9321758185490
Shipping Weight: 0.44000Kg
Packaging Sizes
EACH: 1
CARTON: 30
Specifications
Output
DC Voltage: 12V
Rated Current: 6A
Current Range: 0-6A
Rated Power: 72W
Ripple & Noise: 120mV p-p
Voltage Adjust Range: 10.8-13.2V
Voltage Tolerance: ±1.0%
Line Regulation: ±0.5%
Load Regulation: ±0.5%
Setup / Rise Time: 500ms / 30ms @ 230VAC
Hold Up Time (Typical): 60ms @ 230VAC
Input
Voltage Range: 88-264VAC 125-373VDC (Withstand 300VAC surge for 5s. Without damage)
Frequency Range: 47-63Hz
Efficiency (Typical): 84.5%
AC Curremt (Typical): 2.0A/115VAC, 1.2A/230VAC
Inrush Current (Typical): Cold Start 40A/230VAC
Leakage Current: <2mA/240VAC
Protection
Overload: 110-150% rated power output
Over Voltage: 13.8-16.2V
Protection Type: Hiccup mode, recovers automatically after fault condition is removed
Environment
Working Temperature: -20 - +70ºC
Working Humidity: 20-90% RH non condensing
Temperature Coefficient: ±0.03%/ºC(0-50ºC)
Vibration: 10-500Hz, 5G 10 minutes/1cycle, period for 60 minutes. Each along X,Y,Z, axis
Dimensions: 129L x 97W x 38H mm
Weight: 0.41kg

*Specifications are subject to change without notice.
Warranty & Returns
12 MONTHS
We offer 12 months warranty on this product from its date of purchase. This is available from Altronics stores, online purchases or Altronics resellers. In accordance with our full warranty terms we will repair, replace or refund if goods you have purchased from us are defective.
14 DAY MONEY BACK GUARANTEE
Not withstanding our warranty policy, if you are dissatisfied with our goods or service you may return the goods within 14 days of our despatch date. Simply contact us for a return authorisation number and we will refund your purchase in full, less transport costs on receipt of goods. All returned goods must be in as sold condition including all packaging, instructions, invoices etc.