S4538 •

12V 7Ah Sealed Lead Acid (SLA) Battery 4.8mm/F1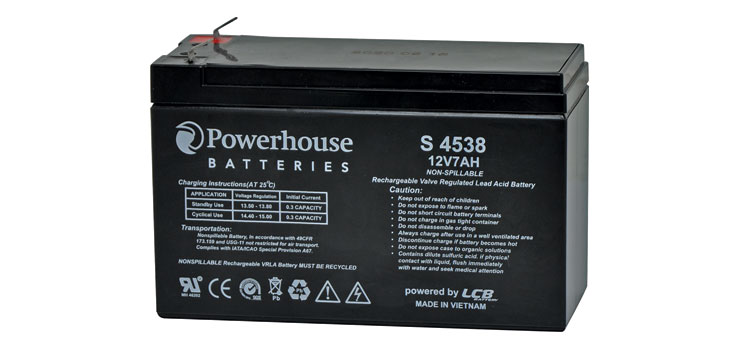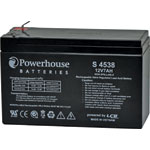 $32.50

per ea

Quantity
Price
ea

$32.50

4+

$29.25

10+

$26.00

per ea
Packaging
All prices shown are (inc. GST)
Overview
This 12V 7Ah sealed lead acid (SLA) battery is a compact battery for powering 12V equipment. It is commonly used in battery back up systems, alarm and communications systems and UPS units. Fitted with 4.8mm/F1 tab terminals, these batteries are easily user replaced in most equipment they are used in. Cells are fully sealed to prevent any leakage of electrolyte. UN Number: UN 2800 Non-Spillable - Hazard Class 8

Our range of Powerhouse SLA batteries are from a quality supplier and are graded for use in UPS systems. We have found the quality of SLA batteries varies considerably between suppliers and often cheaper units have a shorter life span.

Excessive temperatures over 65ºC can effect the ABS housing. Need to be well ventilated in warm conditions. Not for use in engine bays.


Information & Downloads
Altronics Code: S4538
I/N: 16671
Barcode: 9321758236413
Shipping Weight: 2.08000Kg
Packaging Sizes
EACH: 1
CARTON: 4
PALLET: 600
PALLET: 600
Specifications
Physical Size

Length: 151mm
Width: 65mm
Height (Total inc. tabs): 102mm
Weight: 2kg

Specifications

20 hour rate (10.5V): 7Ah
Cell per unit: 6
Nominal voltage: 12V
Internal resistance: approx 28m Ohm
Max discharge current: 70A (5s)
Battery life: 3-5 years (standby)
Terminal type: 4.8mm/F1
Container material: ABS

Ambient Temperature

Charge: 0°C to 40°C
Discharge: -15°C to 50°C
Storage: -15°C to 40°C

Charging

Max charge current: 2.1A
Charge voltage: 14.4V to 15V
Standby (float) charge voltage: 13.5V to 13.8V

*Specifications are subject to change without notice.
Warranty & Returns
12 MONTHS
We offer 12 months warranty on this product from its date of purchase. This is available from Altronics stores, online purchases or Altronics resellers. In accordance with our full warranty terms we will repair, replace or refund if goods you have purchased from us are defective.
14 DAY MONEY BACK GUARANTEE
Not withstanding our warranty policy, if you are dissatisfied with our goods or service you may return the goods within 14 days of our despatch date. Simply contact us for a return authorisation number and we will refund your purchase in full, less transport costs on receipt of goods. All returned goods must be in as sold condition including all packaging, instructions, invoices etc.