S4760 •

26650 4000mAh Li-Ion Rechargeable Battery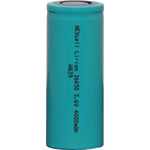 $26.50

per ea

Quantity
Price
ea

$26.50

4+

$24.75

10+

$21.95

per ea
Packaging
All prices shown are (inc. GST)
Overview
These high performance 26650 lithium ion 3.6V batteries offer high performance and long life from a compact package.

Lithium-ion batteries offer excellent properties for use in consumer devices, including excellent energy density and low maintenance. Lithium-ion do not suffer from memory effect and possess no regular cycling that batteries often require to extend their service life.

Common applications
Laptop computers
LED flash lights
Electric vehicles
Power tools
Converting AA or AAA powered products over to higher performance (providing voltage matches).


Information & Downloads
Altronics Code: S4760
Shipping Weight: 0.10000Kg
Packaging Sizes
EACH: 1
CARTON: 200
Specifications
Standard capacity: 4500mAh. (0.5C, (current value of 4500mA at 1C)
Capacity range: 4450-4650mAh 0.5C
Standard voltage: 3.6V
Alternating internal resistance: <30mΩ
Charge conditions: 4.2V cut off voltage, 0.01C cut off current. (constant current charge to 4.2V at 0.5C, constant voltage charge to stop until 0.01CmA)
Max charging current: 4.5A
Max continuous discharge current: 13A
Pulse discharge current: 15A, 5s
Working temperature: 0-55°C charging, -20°C-60°C discharging

*Specifications are subject to change without notice.
Warranty & Returns
12 MONTHS
We offer 12 months warranty on this product from its date of purchase. This is available from Altronics stores, online purchases or Altronics resellers. In accordance with our full warranty terms we will repair, replace or refund if goods you have purchased from us are defective.
14 DAY MONEY BACK GUARANTEE
Not withstanding our warranty policy, if you are dissatisfied with our goods or service you may return the goods within 14 days of our despatch date. Simply contact us for a return authorisation number and we will refund your purchase in full, less transport costs on receipt of goods. All returned goods must be in as sold condition including all packaging, instructions, invoices etc.