S9346M •

8 Channel AHD 8MP/IP/CVI/TVI Hybrid Digital Video Recorder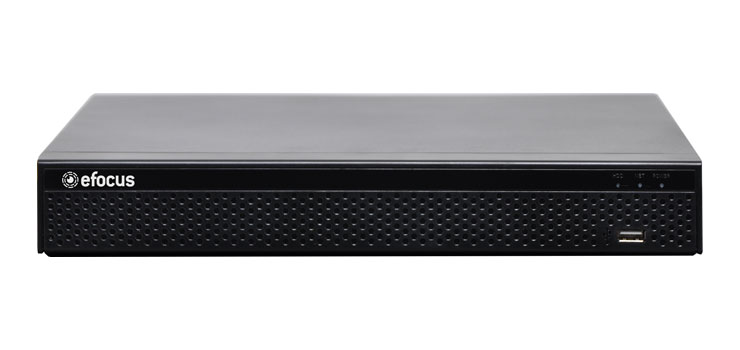 $550.00

per ea

Quantity
Price
ea

$550.00

2+

$500.00

4+

$445.00

per ea
Packaging
All prices shown are (inc. GST)
Overview
This 8 channel digital video recorder is designed to support connection analog AHD, TVI and IP cameras (PoE router may be required for IP usage). Each channel can be individually recorded in real time 25fps @ 1080p to the internal SATA hard drive (available separately). Or 8fps @ 8MP (3840x2160px) resolution. HDMI, VGA & composite outputs are provided for connection to an external monitor. Channels may be viewed in full screen or quad modes with switching and freeze image functionality. Recording can be continuous, scheduled or triggered via motion detection or alarm input. Four alarm inputs are provided with 1 output for triggering auxiliary equipment. USB input is provided for backup and archiving. Footage can be viewed on your PC with the included software. Includes power supply. Live viewing can be done remotely over internet or on mobile devices (apps to suit iOS & Android). 1080p display resolution. Two SATA interfaces (12TB max). Hard disk sold separately. A 4K monitor (S 8876) is also recommended for viewing and recording resolutions 3MP to 8MP.
NOTE: UNIT IS NOT SUPPLIED WITH HARD DRIVE. ALL HARD DRIVES AVAILABLE SEPARATELY
Download the platform software guide suitable for windows and mac
Features
Support AHD/CVI/TVI/IP/Analog Camera Input
Up to HD 8MP and IP 8MP Resolution Recording
Support HD Output, VGA and CVBS Video Output
Support Max. 8CH HD or 32CH IP Camera Input
Support 2 SATA up to 16TB Capacity
Information & Downloads
Altronics Code: S9346M
Shipping Weight: 2.77000Kg
Packaging Sizes
EACH: 1
CARTON: 5
Specifications
System
Main Processor: HI3531D
Operating System: Embedded LINUX
Video
Input: Analog: 8 x (TVI/AHD: 5MP; AHD/TVI/CVI: 4MP; AHD/TVI: 3MP; AHD/TVI/CVI: 1080P/720P; Analog: 960H), Analog+Network
6 x Analog+10 x network(Max 8MP), 4 x Analog+12 x network(Max 8MP), 2 x Analog+14 x network(Max 8MP)
Network: 32 x network(Max 8MP), Total incoming bandwidth ?200M.
Input: 8CH BNC
Signal Type: Analog/AHD/CVI/TVI 2.0/TVI 3.0/Network
Output: 1 HD,1 VGA
Audio
Input: 4Channel, RCA
Two-way Audio: NO
Output: 1 Channel, RCA
Alarm
Sensor Input: NO
Output: NO
Motion Detection: 8 Channel (max 32 Channel in pure network mode)
Trigger Events: Recording, Email, Screen tips, Buzzer, Push notifications (motion detection)
Email Alarm: Send Image to The Designated E-mail
PTZ
Interface: RS485
Protocol: Pelco-D, Pelco-P
Baud Rate: 110~921600
Address: 0~255
Display
VGA: Resolution: 1920 × 1080P/60Hz, 1280 × 1024/60Hz
HD Output: Resolution: 3840×2160/30Hz, 2560x1440/30Hz, 1920 × 1080P/60Hz, 1280 × 1024/60Hz
Display Split: 36 Channel / 25 Channel / 16 Channel / 9 Channel / 8 Channel / 4 Channel / 1Channel
Privacy Masking: 3 Rectangular Zones (Each camera)
OSD: Camera title, Time, Video loss, Alarm, Motion detection, Recording
Recording
Video Compression: H.265/H.265+/H.264/H.264+
Audio Compression: G711u
Resolution: 8MP(3840×2160), 5MP(2592×1944), 4MP(2560×1440), 3MP(2048×1536), 1080P(1920×1080), 720P(1280×720), 960H(P:960×576/N:960×480)
Video Quality: worst/worse/ordinary/well/best
Record Rate: Analog: 8MP (3840 x 2160 8@8fps), 5MP (2592 × 1944 8@12fps), 4MP (2560×1440 8@15fps), 3MP(2048 × 1536 8@18fps), 1080P (1920 x 1080 8@25fps), 720P (1280 × 720 8@25fps), 960H(960 × 576 8@25fps)
Pure IP(H.265): 4k@22×25fps, 5MP@32×25fps, 4MP@32x25fps, 3MP@32×25fps, 1080P@32×25fps, 960P@32×25fps, 720P@32×25fps, D1@32×25fps
Record Mode: Manual, Timer, Motion Detection
Playback & Backup
Decode Capability: 3CH 4K@30fps
Sync Playback: Pure Analog: 8CH 8M@8fps, 8CH 5M@12fps, 8CH 4M@15fps, 8CH 3M@18fps, 8CH 1080p@30fps
Mix Mode: 4CH 1080P@30fps, 4CH 3MP@18fps, 4CH 4M@30fps, 3CH 5MP@20fps, 2CH 4K@30fps
Pure IPC: 3CH 4K@30fps, 4CH 5M@30fps, 6CH 4M@30fps, 6CH 3M@30fps, 9CH 1080P@30fps, 9CH 960P@30fps, 9CH 720P@30fps
Remote Playback: 4 Channel / 1 Channel
Search Mode: ALL, Channel, Manual, Time, Date, Motion Detection
Playback Functions: Play, Pause, Stop, Fast play, Rewind, Digital Zoom, Full screen
Smart Phone Playback: 4 Channel
Backup Mode: USB Device (with fomat FAT 32 ) / Network
Network
Interface: 1 RJ45 10M/100/1000M Adaptive Ethernet Interface
Network Functions: TCP/IP, HTTP, UPnP, DNS, NTP, SMTP, PPPoE, DHCP, FTP, DDNS, RTP, RTSP, RTCP
DDNS: Dyndns, changeip, no-ip, Oray, A-PRESS, MYQSEE, SKDDNS, SMART-EYES, ZEBEYE
Web Browser: IE8-11, Google Chrome (lower than Ver44), Firefox (lower than Ver53)
CMS Software: Support Windows 7/ Windows 8/Windows 10
Extra Stream: D1/CIF(1~30fps)
Smart Phone: iPhone, ipad, Android ,Android pad
Hard Disk Driver
Interface Type: 2 SATA Interface
Capacity: 2 SATA Hard Disk (2.5"/3.5" SATA, Up to 16TB)
General
Language: Chinese, English, Polish, Czech, Russian, Thai, Hebrew, Arabic, Bulgarian, Farisa
German, French, Portuguese, Turkic, Spanish, Italian, Hungarian, Romanian, korean, Dutch, Greek
UTC Control: YES
USB Interface: 2 USB 2.0 Interfaces
Power consumption: DC 12V ?10W (Without Hard Disk)
Working Environment: -10~55?/10~90%
Dimension: (W×D×H) 310 x 295 x 46(mm)
Weight: 3.5kg (Without HDD)

*Specifications are subject to change without notice.
Warranty & Returns
12 MONTHS
We offer 12 months warranty on this product from its date of purchase. This is available from Altronics stores, online purchases or Altronics resellers. In accordance with our full warranty terms we will repair, replace or refund if goods you have purchased from us are defective.
14 DAY MONEY BACK GUARANTEE
Not withstanding our warranty policy, if you are dissatisfied with our goods or service you may return the goods within 14 days of our despatch date. Simply contact us for a return authorisation number and we will refund your purchase in full, less transport costs on receipt of goods. All returned goods must be in as sold condition including all packaging, instructions, invoices etc.
Accessories (Sold Separately)