W3020 •

2 Core Black Twin Audio Shielded Cable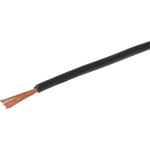 Information & Downloads
Altronics Code: W3020
I/N: 6097
Barcode: 9321758037430
Shipping Weight: 0.02500Kg
Packaging Sizes
METRE: 1
REEL: 100
CARTON: 800
RoHS: Approved
Specifications
Suitable for general purpose audio circuits. Conductors are individually shielded.
Conductor
Size: 2 x 27AWG
Material: Bare copper
Construction: 2 x 10/0.12+/-0.03mm (27AWG)
Insulation
Average thickness: 0.28mm
Minimum thickness: 0.24mm
Diameter: 1.0+/-0.03mm
Material: polyvinyl chloride (PVC)
Colour: Red/white
Spiral shield
Material: Bare copper
Construction: 32/0.12+/-0.008mm
Sheath
Average thickness: 0.66mm
Minimum thickness: 0.53mm
Diameter: 3.80+/-0.10mm
Material: Polyvinyl chloride (PVC)
Colour: Black
Electrical and physical properties
Temperature rating: 80º C
Voltage rating: 30V
Roll size: 100m

Cross Section

*Specifications are subject to change without notice.
Warranty & Returns
12 MONTHS
We offer 12 months warranty on this product from its date of purchase. This is available from Altronics stores, online purchases or Altronics resellers. In accordance with our full warranty terms we will repair, replace or refund if goods you have purchased from us are defective.
14 DAY MONEY BACK GUARANTEE
Not withstanding our warranty policy, if you are dissatisfied with our goods or service you may return the goods within 14 days of our despatch date. Simply contact us for a return authorisation number and we will refund your purchase in full, less transport costs on receipt of goods. All returned goods must be in as sold condition including all packaging, instructions, invoices etc.
Back to Top