Y1870 •

Microchip ATSAM3XEA-AU Microcontroller 144 Pin LQFP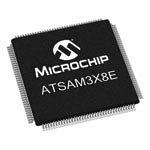 $36.95

per ea

Quantity
Price
ea

$36.95

4+

$34.75

10+

$32.95

per ea
Packaging
All prices shown are (inc. GST)
Overview
Based on the ARM® Cortex®-M3 processor, the Microchip's SAM3X8E runs at 84MHz and features 512KB of flash memory in 2 x 256KB banks and 100KB of SRAM in 64KB +32KB banks, with an additional 4KB as NFC (NAND Flash controller) SRAM.
Its highly-integrated peripheral set for connectivity and communication includes Ethernet, dual CAN, High Speed USB MiniHost and device with on-chip PHY, high-speed SD/SDIO/MMC, and multiple USARTs, SPIs, TWIs (I2C), and one I2S.
The SAM3X8E also features a 12-bit ADC/DAC, temperature sensor, 32-bit timers, PWM timer and RTC. The 16-bit external bus interface supports SRAM, PSRAM, NOR and NAND Flash with error code correction.
The Microchip QTouch Library is available for the SAM3X8E for easy implementation of buttons, sliders and wheels.
The device operates from 1.62V to 3.6V and is available in a 144-pin QFP
package
As used in the Arduino Due.
Features
ARM Cortex-M3 revision 2.0 running at up to 84 MHz
Memory Protection Unit (MPU)
24-bit SysTick Counter
Thumb®-2 instruction set
Nested Vector Interrupt Controller
2 x 256Kbytes embedded Flash, 128-bit wide access, memory accelerator, dual bank
100(64+32) Kbytes embedded SRAM with dual banks
16 Kbytes ROM with embedded bootloader routines (UART, USB) and IAP routines
Static Memory Controller (SMC): SRAM, NOR, NAND support.
NAND Flash controller with 4 Kbytes RAM buffer and ECC
External Bus Interface - 16 bits, 8 chip selects, 23-bit address
Information & Downloads
Altronics Code: Y1870
Barcode: 9321758215753
Shipping Weight: 0.00130Kg
Packaging Sizes
EACH: 1
RoHS: Approved
Specifications
Family ATSAM3X8E
Max Speed MHz 84
Program Memory Size (KB) 512
RAM (KB) 96
SD/eMMC 1
Temperature Range (C) -40 to 85
Operating Voltage Range (V) 1.62 to 3.6
DMA Channels 23
SPITM 4
I2CTM Compatible 2
Peripheral Pin Select (PPS) Crossbar Yes
Type of Ethernet Modules 10/100 Base-TX Mac
USB 1
Number of CAN modules 2
A/D channels 16
Max A/D Resolution 12
Max A/D Sample Rate (KSPS) 1000
Number of DACs 1
Input Capture 6
Parallel Port EBI
Internal Oscillator 4,8,12Mhz,32Khz
RTCC Yes
I/O Pins 103
Pin Count 144
Quadrature Encoder Interface (QEI) 2

*Specifications are subject to change without notice.
Warranty & Returns
12 MONTHS
We offer 12 months warranty on this product from its date of purchase. This is available from Altronics stores, online purchases or Altronics resellers. In accordance with our full warranty terms we will repair, replace or refund if goods you have purchased from us are defective.
14 DAY MONEY BACK GUARANTEE
Not withstanding our warranty policy, if you are dissatisfied with our goods or service you may return the goods within 14 days of our despatch date. Simply contact us for a return authorisation number and we will refund your purchase in full, less transport costs on receipt of goods. All returned goods must be in as sold condition including all packaging, instructions, invoices etc.
Accessories (Sold Separately)