Z6534 •

DFR0323 Bluno Mega2560 Arduino with Bluetooth 4.0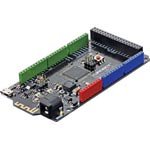 $99.00

$49.50

SAVE $49.50

Quantity
Price
ea

$99.00

$49.50

per ea
Packaging
All prices shown are (inc. GST)
Overview
Bluno Mega2560 inherits the numerous ports and the abundant resources of Mega series, and adds Bluetooth 4.0 wireless communication function. It has 54 digital I/O (input/output) ports (15 of which can be used as PWM output), 16 analog input and 4 UART (hardware serial ports), and uses 16 MHz imported crystal oscillators. So, if you are feeling a lack of ports or desire more RAM, flash or EEPROM memories, here is the answer. With it's bootloader it can directly download programs via USB without any other external flashing devices. Mega 2560 has twice as big memory space as 1280 and 256k flash memory. Bluno Mega2560 has two options for the power supply system, including USB power supply or external power supply. The power supply will be automatically switched. External power supply can use an adapter or a battery and the range of voltage limit of the control board is from 5V to 23V.
Bluno Mega2560 Wikidocs Page
Information & Downloads
Altronics Code: Z6534
I/N: 14078
Barcode: 9321758182994
Shipping Weight: 0.04300Kg
Packaging Sizes
EACH: 1
CARTON: 1
Specifications
Microcontroller: ATmega2560
Clock frequency: 16MHZ
Transmission distance: 70m in free space
Support bluetooth remote update the Arduino program
Support bluetooth HID
Support iBeacons
Support by the AT command to debug the BLE
Support transparent transmission serial port
Support the master-salve machine switch
Support usb update BLE chip program
Working voltage:+5V
External input voltage (recommended): 7V~12V DC
External input voltage (range): 6V~20V DC
Digital I/O outputs: 54 (14 PWM outputs)
Analog inputs: 16
I/O current: 40mA
Flash capacity: 128KB (4k for bootloader)
Static storage capacity of SRAM: 8KB
Memory capacity of EEPROM: 4KB
Size: 108 x 54mm

*Specifications are subject to change without notice.
Warranty & Returns
12 MONTHS
We offer 12 months warranty on this product from its date of purchase. This is available from Altronics stores, online purchases or Altronics resellers. In accordance with our full warranty terms we will repair, replace or refund if goods you have purchased from us are defective.
14 DAY MONEY BACK GUARANTEE
Not withstanding our warranty policy, if you are dissatisfied with our goods or service you may return the goods within 14 days of our despatch date. Simply contact us for a return authorisation number and we will refund your purchase in full, less transport costs on receipt of goods. All returned goods must be in as sold condition including all packaging, instructions, invoices etc.