Our goal is to always provide quality kits at realistic prices. Every Altronics kit is supplied with 1% tolerance metal film resistors, MKT capacitors and IC sockets where appropriate. All of our PCBs, no matter how large or small, are constructed from FR4 fibreglass giving superior quality and strength. Most projects include solder masked and silk screened PCBs for a fast and easy construction.
We supply you with pre-punched cases and silk screened panels (where applicable) to provide a professional finish to the completed kit.
The majority of our projects include silk screened PCB to aid in component placement. This ensures a fast and accurate construction everytime.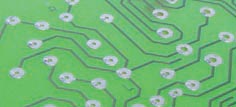 At Altronics we provide solder masked PCBs for every kit - no matter how big or small. This ensures no solder bridges to occur during construction.
Kit Star Rating System
To assist you in assessing whether or not a prospective kit is within your electronic construction capabilities, we've graded our kits from beginner to advanced ratings:
1 Star - Simple PCB, soldering required.
2 Star - Soldering with some drilling & wiring.
3 Star - Slightly complex - winding inductors, heatsinking.
4 Star - Complex kit requires chassis wiring and case construction.
5 Star - For experienced constructors extensive wiring and advanced construction techniques.
240V Mains Wiring
Some of our kits operate on 240VAC mains. As such, all parts may operate at mains potential and contact with any part of the circuit could prove FATAL. To ensure safety, we recommend the kit is fully enclosed before connecting to the mains. DO NOT TOUCH any part of this circuit unless the power cord is unplugged from the mains socket. Generally, these projects should not be attempted unless you are completely familiar with mains wiring practices and construction techniques.
Warranty On Kits
All components supplied in Altronics kits are of high quality and are covered by our standard warranty. However we cannot guarantee components that have been used nor can we guarantee the constructors workmanship. Once a kit has been commenced all warranty claims are void. Should you open a kit and find any damaged or faulty components please contact us immediately to arrange replacements. Similarly, if you open a kit to find it beyond your skill level please contact us within 14 days to arrange a return for credit or exchange. If you have any doubts regarding the difficulty of a kit please contact us for more information.