A4047 •

Phase5 100 Watt 100V Public Address Amplifier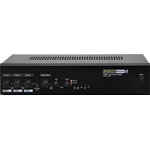 $779.00

per ea

Quantity
Price
ea

$779.00

2+

$735.00

per ea
Packaging
All prices shown are (inc. GST)
Overview
Designed to meet the requirements of medium sized professional public address installations, delivering an output power of 100W RMS. Frequency response extends from 60Hz to 15kHz at a total harmonic distortion (THD) of less than 0.5%. Features include, VOX muting, three balanced XLR microphone inputs, three line RCA inputs, bass and treble controls, enabling a diversity of installation applications, including schools, public halls, workshops and sporting complexes. Inbuilt VOX muting allows input 1 (mic or line) to mute inputs 2-3 and input 2 (mic or line) to mute input 3.
Powered from 240V AC mains or 24V DC permitting battery backup operation during mains power failure. Output is 100V line only. All units feature thermal overload shutdown to protect the amplifier if a speaker fault condition develops.
A 4573 Alert/evac option board:
When fitted, generates pre chime, bell, alert and evacuation tones. The alert tone can function continuously, or switch to evac tone after a preset time delay (adjustable 30 seconds to 4.5 minutes). Simply connects to the amplifier internally via the cable provided.
A 4373 Digital remote volume option board:
When fitted and used in conjunction with A 2280B wallplate to provide remote volume level adjustment. Ideal for situations where the amplifier is located in a remote rack.
Features
3 balanced microphone inputs
Phantom power on mic inputs
3 line inputs
19" rack mount kit included
VOX muting
Tape output RCA sockets
Bass and treble tone controls
100V line output
240V AC or 24V DC operation
Built in short circuit protection
10 year warranty
Optional evac module available
Optional remote volume module
Australian designed & assembled
100% developed, designed & assembled in Australia.
Since 1976 Redback PA products have been manufactured in Perth, Western Australia by Altronics. With over 40 years experience in the commercial audio industry, we offer consultants, installers and end users reliable products of high build quality with local product support. Read more about our Australian Made products


Backed by an industry leading 10 Year Manufacturer Warranty.
Our Redback products have a long tried and tested history of bulletproof reliability. Altronics offers a 10 Year Warranty on all Australian Made Redback products. Our local in-house service department has all the know how to answer technical queries and provide timely service. Read more about our industry leading warranty.

Information & Downloads
Altronics Code: A4047
Barcode: 9321758227770
Shipping Weight: 8.50000Kg
Packaging Sizes
EACH: 1
Specifications
Power Output: 100 watts RMS
Distortion: < 0.5% @ 1kHz
Signal to Noise Ratio: Typically 75dB below rated output. All inputs
Mic inputs: 50Hz - 10kHz, -3dB
Line inputs: 60Hz - 15kHz, -3dB
Output line: 100V
Mic 1-3: 3mV
Line inputs 1-3: 300mV
Speakers: Screw terminals
Current Draw: 220mA Standby, 7A Full @ 24V DC
Protection: 4A AC fuse and 8A DC fuse
Weight: 9kg
Dimensions: 423W x 225D x 88H mm
Input Connectors
Mic 1-3: 3 pin XLR balanced
Line inputs 1-3: RCA stereo socket
24V DC power: Screw terminals
240V AC power: IEC power connector
VOX Muting: 60dB below rated output
Remote volume: Screw terminals
Controls
Mic inputs: Volume
Line inputs: Volume
Bass: ±10dB @ 100Hz
Treble: ±13dB @ 10kHz
Power: On/off switch
Indicators: Power, Overload
Power supply: 240V AC or 24V DC

*Specifications are subject to change without notice.
Warranty & Returns
10 YEARS
We offer 10 years warranty on this product from its date of purchase. This is available from Altronics stores, online purchases or Altronics resellers. In accordance with our full warranty terms we will repair, replace or refund if goods you have purchased from us are defective.
14 DAY MONEY BACK GUARANTEE
Not withstanding our warranty policy, if you are dissatisfied with our goods or service you may return the goods within 14 days of our despatch date. Simply contact us for a return authorisation number and we will refund your purchase in full, less transport costs on receipt of goods. All returned goods must be in as sold condition including all packaging, instructions, invoices etc.
Accessories (Sold Separately)