K5570 •

2 Way Active Cross Over Kit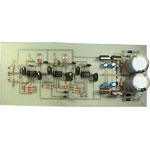 This item is no longer available to purchase.
Overview
(EA May '92)
This great kit enables you to customise your sound system. The circuit simply connects between the audio source and the amplifiers. There are two outputs, one for bass and another provides signal for the upper range. Thus each amp is dedicated to a frequency range (i.e. one for bass, one for midrange and treble). Because no passive crossover is required there are no losses involved. Suitable for live PA or Hi-Fi applications. One per channel is required. Operates on ±15V rails. The result is much better sound with less distortion. Comes with a range of resistors to select the crossover frequency between 1.8kHz and 3.6kHz.
Important Note For Kit Buyers:
This product is supplied in component form and requires soldering, drilling, and assembly. We recommend users are familiar with at least basic electronic principles and have the ability to solder.
Why buy an Altronics Kit?
Altronics kits are premium do-it-yourself projects designed to be assembled with ease. However, basic electronics knowledge and soldering skills are essential to construct our kits. A difficulty rating is provided to help determine if your ability is sufficient to build the kit project. Please note, once assembly has been commenced we are unable to honor any warranty claims. Please see the full details
here.
Information & Downloads
Altronics Code: K5570
Barcode: 9321758026786
Shipping Weight: 0.12500Kg
Packaging Sizes
EACH: 1
CARTON: 1
Warranty & Returns
12 MONTHS
We offer 12 months warranty on this product from its date of purchase. This is available from Altronics stores, online purchases or Altronics resellers. In accordance with our full warranty terms we will repair, replace or refund if goods you have purchased from us are defective.
14 DAY MONEY BACK GUARANTEE
Not withstanding our warranty policy, if you are dissatisfied with our goods or service you may return the goods within 14 days of our despatch date. Simply contact us for a return authorisation number and we will refund your purchase in full, less transport costs on receipt of goods. All returned goods must be in as sold condition including all packaging, instructions, invoices etc.