M4918C •

240/18+18 30VA Toroidal Transformer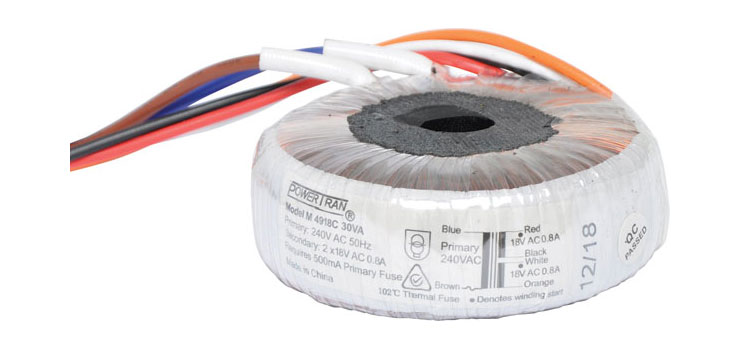 $51.25

per ea

Quantity
Price
ea

$51.25

2+

$47.25

4+

$43.75

per ea
Packaging
All prices shown are (inc. GST)
Overview
Low profile design suitable for use inside our 1RU 19" rack enclosures. Potted epoxy centre core for easy mounting.
Toroidal transformers are becoming increasingly popular due to their improved magnetic properties and also that they can be made to a lower profile than a standard solenoid core transformer, allowing for equipment of similar power to be of a lower profile such as rack mounted devices.
The advantage of the toroidal (donut) shape is that due to its symmetry the amount of magnetic flux that escapes outside the core (leakage flux) is minimised, therefore it radiates less electromagnetic interference (EMI) to nearby circuits or equipment. EMI is of increasing importance in modern low power, high frequency electronics.
Included mounting hardware
1 x Mounting plate
1 x Gasket
1 x Mounting bolt
1 x Nut
Features
Supplied with 1 rubber washer, bolt and nut.
Lower electrically induced noise demanded by compact equipment.
High efficiency enabling conservative rating whilst maintaining size advantages.
The toroidal transformer is accepted as the industry standard, replacing the laminated type as toroidal transformers offer advantages in size, weight, and lower radiated field.
Wiring:
Secondaries parallel
Current available where secondaries are connected in parallel.
Secondaries series
Current available where secondaries are connected in series.
Dimensions:
D: 76 d: 21 H: 30
Tolerance: ± 2%
*Specifications subject to change without prior notice.
Manufacturers please note, we recommend that a sample is obtained to confirm suitability
* Outside diameter D is given as a maximum value, inner diameter d is given
Note:
Must be used with a 500mA external AC fuse.
Information & Downloads
Altronics Code: M4918C
I/N: 14891
Barcode: 9321758198018
Shipping Weight: 0.70000Kg
Packaging Sizes
EACH: 1
CARTON: 24
Specifications
Primary voltage: 240V AC
Secondary voltage: 18V (parallel), 36V (series)
Secondary current: 1.6A (parallel), 0.8A (series)
Regulation: Better than 10%
Maximum temperature rise: 75°C
Dielectric strength: 4000V for 1 Minute
Insulation class: Class B (130ºC)
Attention OEM customers: Please contact our parent company Altronic Distributors for extremely competitive wholesale pricing. Variations or custom toroidals available.
Minimum order quantity applies.

*Specifications are subject to change without notice.
Warranty & Returns
12 MONTHS
We offer 12 months warranty on this product from its date of purchase. This is available from Altronics stores, online purchases or Altronics resellers. In accordance with our full warranty terms we will repair, replace or refund if goods you have purchased from us are defective.
14 DAY MONEY BACK GUARANTEE
Not withstanding our warranty policy, if you are dissatisfied with our goods or service you may return the goods within 14 days of our despatch date. Simply contact us for a return authorisation number and we will refund your purchase in full, less transport costs on receipt of goods. All returned goods must be in as sold condition including all packaging, instructions, invoices etc.
Accessories (Sold Separately)