Special Offers
$199.00
2+ $179.00
4+ $159.00
Price per each

In Stock
A compact, sturdy 2x50W RMS class-D stereo amplifier with 3.5mm input on the front and RCA input on the back for easy connection. Features Bluetooth for audio streaming from your phone, tablet or laptop.

A4201
WAS $299.00
$180.00
Price per each(pr)
SAVE
$119.00

Low Stock - Call to Confirm
These Opus One Platinum series speakers are designed for the discerning hi-fi and home theatre listener. The customised drivers exhibit extended bass response and punchy, crisp midrange. The titanium dome tweeter is suspended allowing a greater excursion

C0855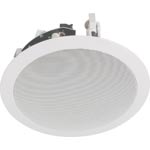 WAS $159.00
$129.00
Price per each
SAVE
$30.00

Low Stock - Call to Confirm
This dual input speaker is engineered to provide stereo imaging from a single speaker unit. It is used when installing two separate left and right channel speakers is impractical. ie in a confined space. It features +3dB bass and treble boost switches for

C0864
All prices include GST.