Professional Audio » Matrix Mixers
$229.00
2+ $200.00
Price per each

In Stock
The A 4476 wallplate is used to provide local access to presets programmed into the A 4470. The presets are displayed on the LCD and can be cycled through by pressing the program preset button. The A 4476 may be connected to either paging console input or

$2250.00
2+ $2025.00
Price per each

Low - More Due 30/09
Designed to meet the demands of todays complex audio installations. This very versatile, cost effective, PA/BGM control system is suitable for clubs, pubs, gyms etc. It is ideally suited as a central controller for all audio inputs and outputs in a multiz

$595.00
2+ $435.00
Price per each

In Stock
Designed to meet the demands of todays complex audio installations. This very versatile, cost effective, PA/BGM control system is suitable for clubs, pubs, gyms etc. It is ideally suited as a central controller for all audio inputs and outputs in a multiz

$299.00
4+ $269.00
Price per each

In Stock
The addition of this optional wallplate allows remote selection of any of the input sources connected to the A 4480 switcher and adjustment of the local zone & local input volume. In addition, when connected to the A 4478 local zone input wallplate, it

$400.00
4+ $370.00
Price per each

Low - More Due 30/09
The wall plate allows remote selection of the A 4480A's zone's input audio source and volume level.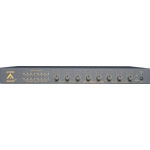 Low Stock - Call to Confirm
Including the latest state-of-the-art DSP technology, this digital audio processor is a comprehensive system which integrates pre-amplifier, compressor limiter, equaliser, as well as matrixing and delay functions into one unit. Useful features like automa


Low Stock - Call to Confirm
Paging microphone console to suit the A 5400A. 8 zones/groups button. 1 All call button. Speak button. Press to talk or ON / OFF, pre and post chime includes 2 minutes of recording for Speak-Forward function. When paging in an occupied zone, the message will automagically be recorded by the microphone console itself and released as soon as the dia


Low Stock - Call to Confirm
Allows up to four zone paging microphones A5405A to be connected to a single port of the A5400A using standard cat 5 cable. Microphones can be placed up to 1200m away from the A 5400A matrix mixer.


In Stock
Optional wallplate

$925.00
2+ $830.00
Price per each

Low - More Due 30/10
The Proart 4 zone matrix provides a versatile and easy to use system capable of delivering up to six audio inputs to four audio zones. With four aux inputs, two mic inputs, paging, VOX muting and wallplate control this system is suitable for both commerci


In Stock
Installed in each zone, this optional wallplate enables selection of input source, volume setting and mute function. A local 3.5mm jack input is provided for connection to iPod or similar. This input automatically mutes signals from the A 5430 unit. Each

$395.00
2+ $375.00
4+ $360.00
Price per each

In Stock
Fitted with 8 SPDT relays, 2 serial outputs using either RS-232 or RS-485 and one infra-red (IR) output. IR signals are beamed to the sensor on the front panel central plate and uploaded to the SD card.

$265.00
2+ $240.00
4+ $220.00
Price per each

In Stock
Designed to be used in conjunction with the A 6500 programmable touchscreen wallplate, this control hub enables the control of a variety of devices. Connection to the A 6500 wallplate is via Cat5/6 cable up to 50m away.

$265.00
2+ $255.00
4+ $245.00
Price per each

Low Stock - Call to Confirm
This relay hub consists of 12 relays with isolated sets of voltage free contacts that close on operation.

All prices include GST.