Projects » Motor Controllers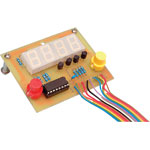 $80.00
4+ $72.00
Price per each

In Stock
Ideal way to control the speed of a high current DC motor without the need for expensive gearboxes or inefficient resistors.

$43.95
4+ $39.50
Price per each

In Stock
(SC June '11) This gutsy little speed controller has a wide range of applications and is simple to build and use. There are no software settings to fiddle with but it does have some really useful features such as low-battery protection, soft start

$21.95
4+ $19.75
Price per each

In Stock
(SC November '08) This small circuit can be used as a speed controller for a 12V motor rated up to 5A (continuous) or as a dimmer for a 12V halogen or standard incandescent lamp up to 50W. It varies the power to the load (motor or lamp) usi

$300.00
2+ $275.00
Price per each

Low - More Due 19/07
This Induction Motor Speed Controller is suitable for motors up to 1.5kW (2HP) and can be used to control speed over a wide range. It will save big dollars with swimming pool pumps and will be great for running machinery at different speeds.

WAS $155.00
$95.00
Price per each
SAVE
$60.00

Low Stock - Call to Confirm
(SC February '14) A motor speed controller suitable for appliances rated up to 10A. Suits brush-type universal motors such as those in small lathes, electric drills, grass trimmers, circular saws, routers, nibblers and jigsaws.

$69.95
2+ $65.00
Price per each

In Stock
This relatively simple but highly effective Triac-based circuit gives smooth, full range speed control for electric drills, lawn edgers, circular saws, routers or any other appliance with universal motors (ie, brush- type) to 10A.

$22.95
5+ $20.95
Price per each

In Stock
(SC May '94) Servo motors require a continuous stream of pulses to control them, where the pulse width determines the servos position. Unless you have a circuit to generate this pulse stream, your servo moto

WAS $35.00
$12.00
Price per each
SAVE
$23.00

In Stock
(SC November '09) This easy to build module can dramatically reduce vibration & noise by ensuring the RPM of each engine is matched. Engine speed mismatches can also reduce efficiency and increase engine wea

$13.95
4+ $12.45
Price per each

In Stock
Sometimes you donít need ultra-precise PWM control. Based on a 555 Timer, it provides a quick PWM solution for all sorts of applications from power tools to motor speed control, to dimming lights.

$19.95
4+ $18.95
Price per each

In Stock
A powerful and versatile programming and breakout shield for ATtiny. Combine the shield with your favourite UNO and youíve instantly got a programmer and debugging system in one!

All prices include GST.